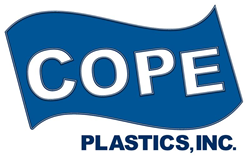 Alton, IL. (PRWEB) July 16, 2014
Cope Plastics is gearing up for their 8th Annual Charity Golf Tournament benefiting Friends of Kids With Cancer. Details are as follows:
Cope Plastics' 8th Annual Charity Golf Tournament Benefiting Friends of Kids With Cancer
Saturday, October 18th
Lockhaven Golf Club - Alton, IL
Join us and help benefit a great cause!
FORMAT: 4-person Scramble
COST $90 per person ($360 per team)
Price includes greens fee, cart, DINNER, 2 mulligan's per golfer, Pro-Drive, 12-Footer & Skins ($5 per golfer)
PRIZES: 1st place prize in Championship, A and B Flights Closest-to-the-hole on two par-3's, Long Drive for both men & women
50/50 & raffle tickets will be offered as well as multiple door prizes
Check out our registration packet for more details!
To register a team, or to sponsor a hole, contact:
Jenni Read: (618) 467-7347 jread@copeplastics.com
Sherri Boeck: (618) 467-7375 sboeck@copeplastics.com
Jeff Maynard: (618) 467-7392 jmaynard@copeplastics.com
Cope Plastics is the premier distributor and fabricator of plastic sheet, rod and tube across the Midwest delivering solutions to our valued customers since 1946. The company is proud to be a certified Women Owned Business by the NWBOC since 2012. Visit us at http://www.copeplastics.com.
Friends of Kids with Cancer is devoted to enriching the daily lives of children undergoing treatment for, and survivors of, cancer and blood-related diseases. Our mission is to be an advocate for these special kids and provide them and their families with the educational, emotional, and recreational support needed as a result of the long hours of chemotherapy, illness and isolation. http://www.friendsofkids.com/