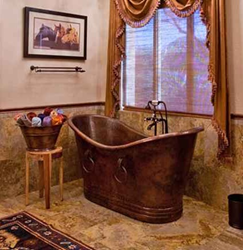 Copper bathroom fixtures work equally well with very grand, old fashioned bathrooms and very rustic ones - it all depends on the finish and the materials they're paired with.
(PRWEB) September 08, 2014
HomeThangs.com – the Online Home Improvement Store has made it their goal to deliver the right product to the consumer. With that in mind, shopping and home design tips, as well as special product selections, are being introduced.
Copper is a fairly unusual material when it comes to bathroom design, but even though porcelain and chrome fixtures are far more common, copper ones can make a stunning accent. Even a single small copper accent can be quite eye catching, and multiple copper bathroom fixtures and features are easy to coordinate and combine to even greater effect. HomeThangs.com has introduced this simple guide to a few of the most popular copper bathroom fixtures as well as what types of bathrooms they'll work best with.
Copper vessel sinks are ideal for use as an accent piece for a few reasons. In general, vessel sinks occupy prime real estate in the bathroom: the sink is a high-traffic area, and vessel sinks are showy by design because they sit fully on top of the vanity. Installing a hand-hammered copper vessel sink in this central, visible area will make it one of the main stars of the bathroom, even without any other copper accents.
Similarly, copper bathtubs make gorgeous statement pieces. Freestanding copper tubs, like more conventional clawfoot or pedestal tubs, typically have a very elegant, traditional appearance, but while porcelain or cast iron tubs can work with a simple, humble decor, copper tubs tend to be much more lavish and ornate. There are, of course, copper bathtubs out there that have a more rustic or modern design, but most favor a Victorian-style slipper or double slipper shape.
Bathroom vanities with copper accents are fairly rare, and tend to have a very rustic appearance. Rather than having a rich, dark patina or a new-penny shine, copper bathroom vanities tend to fall somewhere in the middle, with a distinctive orangey copper color that's visibly weathered, sometimes with spots of blue-green or brown oxidation. These more weather worn pieces are also often paired with aged or reclaimed wood, for a look that works better with a cabin or southwestern style bathroom than a very traditional one.
Of course, not all copper bathroom fixtures have to be bold and assertive. Copper bath and shower hardware pairs beautifully with medium toned, sandy tan stone tile. While chrome and stainless steel fixtures are bright and shiny, their copper equivalents are intended instead to create a rich, lavish feeling, so they work better with a shower enclosure that's both grand and earthy, with lower light and warm brown tones.
For a slightly more subtle way to introduce a copper accent into a bathroom, consider adding a few copper accent tiles to a backsplash or tile floor. Copper accent tiles have a soft metallic sheen and often feature some sort of raised image or at least a hand hammered texture. Just a few of these tiles incorporated into a larger pattern of more traditional tile will add variety and visual interest to the whole installation.
Finally, one of the simplest ways to incorporate a copper element into a bathroom is to simply change out basic bathroom accessories. That can mean something as simple as swapping out the existing light switch plates for copper ones, or as elaborate as replacing towel bars, shower rings, and cabinet hardware. Even changing these simple features can totally alter the appearance of the bathroom, for a lot less than it would cost to add larger copper fixtures.
For more thoughts on incorporating copper into a bathroom design, check out the full article here.
HomeThangs.com is not only a home improvement superstore, it also provides expert design tips and a comprehensive shopping guide, taking the ideas from professional interior designers, and offering tips to the consumers on how to pick the products to best suit their needs.