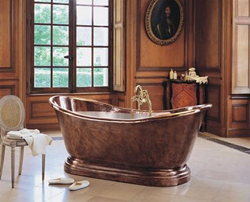 The vast majority of copper bathtubs have hefty, solid basis and are both deep and tall, with gently sloped sides and maybe a little detailing along the bottom edge, like classic Victorian pedestal tubs.
(PRWEB) September 11, 2014
HomeThangs.com – the Online Home Improvement Store has made their goal to deliver the right product to the consumer. With that in mind, shopping and home design tips, as well as special product selections are being introduced.
Freestanding bathtubs have become a go-to accent feature for high-end, luxury bathrooms. Their sculptural designs and flexibility in terms of installation make them perfectly suited to act as a dramatic focal point for a bathroom of any size. Copper freestanding tubs are particularly striking, with an assertive metallic finish that makes their elegant traditional designs even more eye catching. HomeThangs.com has introduced a simple guide to choosing the right copper bathtub.
Copper bathtubs run the gamut from very ornate and traditional to simple and rustic. HomeThangs.com's new guide discusses how the finish and decoration on the tub, as well as materials used elsewhere in the bathroom, can help enhance one look or the other, even on bathtubs with largely the same design. Because copper has such a bold, distinctive color, some materials are a better match for copper bathtubs than others, and this guide discusses various pairings to really make the bathtub shine.
These elegant luxury bathtubs also have a few practical advantages over cast iron or acrylic freestanding tubs, and HomeThangs.com's guide examines some of the unique and lesser known properties of copper, which make it an ideal material for a high-traffic bathroom. Copper bathtubs are also surprisingly low-maintenance, and this guide explores a few of the reasons why, as well as the basic guidelines for the care and keeping of these designer tubs.
To read HomeThangs.com's full guide to freestanding copper bathtubs, click here.
HomeThangs.com is not only a home improvement superstore, it also provides expert design tips and a comprehensive shopping guide, taking the ideas from professional interior designers, and offering tips to the consumers on how to pick the products to best suit their needs.