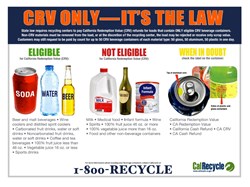 San Jose, CA (PRWEB) December 12, 2013
Ranch Town Recycling announces a new change in California Redemption Value (CRV) recycling. The California Department of Resources, Recycling and Recovery has ruled that CRV beverage containers that include non-CRV material will no longer be eligible for refund at recycling centers. The new law went into effect November 1, 2013. This updated rule eliminates the "commingled" per-pound payment rate that is somewhat lower than the CRV-only rate.
Customers should be aware of the new changes before going to Ranch Town Recycling or any other recycling center and make sure that all their items are CRV. Most beverages packaged in aluminum, glass, plastic and bi-metal containers are eligible for CRV. Notable exceptions include milk, wine and distilled spirits, which are not included in the CRV program.
Most consumers who redeem their empty bottles and cans at recycling centers may not notice a change, since many of those businesses already accept only CRV materials. Now, this change will ensure only CRV-eligible containers are redeemed for their redemption value.
For more information about the new CRV recycling rules or about Ranch Town Recycling, call 408-217-6205 or visit their website at http://www.ranchtownrecycling.com.
About the company:
Ranch Town Recycling understands the importance of being green and is committed to working with, and helping the community, schools and businesses become proactive about recycling, which is extremely economically and environmentally smart. Ranch Town Recycling provides services to several different areas throughout the Bay Area, including the South Bay. Ranch Town prices are very competitive, and Ranch Town Recycling is open seven days per week for the utmost in client convenience. Copper recycling, e-waste recycling and scrap metal recycling are available. For more information, please visit their website at http://www.ranchtownrecycling-bayarea.com.