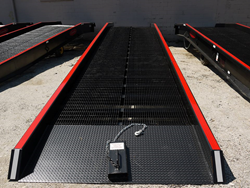 (PRWEB) June 17, 2014
Copperloy has proven itself as an industry leader in the manufacture and distribution of loading dock equipment for over 50 years. All of their products are proudly made in the USA and their loading dock equipment is durable, rugged, and built to last.
With an array of loading dock equipment available for sale or rent, Copperloy has established a strong reputation by offering their customers a variety of options. Copperloy's yard ramps are no exception with options for dock-to-ground, mobile, and more. All of their yard ramps are offered in aluminum or steel with capacities reaching 60,000 pounds. Copperloy's yard ramps also work great with portable platforms. To add a few more options, they now offer yard ramps for rent or used yard ramps to buy. Combine that with a custom fabrication department and Copperloy can literally create any yard ramp you could want. Businesses thrive on efficiency, these numerous options help to increase efficiency and maximize productivity. Read more about their yard ramp selections here: http://www.copperloy.com/loading-dock-equipment/yard-ramps/.
Mobile Yard Ramps
copperloy.com/loading-dock-equipment/yard-ramps/mobile-ramps
Copperloy carries industrial mobile yard ramps in steel or aluminum options. These are heavy duty, durable yard ramps that can take on any challenge. Copperloy's mobile yard ramps are portable ramps that can be easily moved or installed. They are ideal for a wide variety of applications and can be customized to suit your specific needs. Mobile ramps are useful in tight spaces, where a truck might not be able to access the loading dock, or for pairing with a portable platform, and much more. Available nationwide, Copperloy's ramps can help you maximize space and productivity, while providing heavy duty options to safely and reliably handle the loads you're tacking.
Dock-to-Ground Ramps
copperloy.com/loading-dock-equipment/yard-ramps/dock-to-ground-ramps/
Copperloy's dock-to-ground ramps are perfect for connecting your raised loading dock to the ground. This allows small trucks, forklifts, and other equipment to be easily brought up into the loading dock, making them ideal for use in material handling situations where vehicles need to travel from grade level to dock height. Copperloy's wide selection of dock-to-ground loading dock ramps can handle capacities ranging from 12,000 to 60,000 pounds, with either 20 or 30-foot lengths. These portable ramps come in widths of 70, 84, or 96 inches, with heights ranging from 37 to 60 inches (or in some cases 22 to 38 inches). Copperloy's dock-to-ground ramps can also retrofit to almost any existing loading dock. These heavy-duty, portable ramps are perfect for applications where mobility is not a necessity and offer customers versatility and affordability.
Forklift Ramps
copperloy.com/loading-dock-equipment/yard-ramps/forklift-ramps/
Copperloy's durable forklift ramps can help you take your facility and your entire operation to the next level. Their mobile forklift yard ramps are heavy-duty ramps, designed for ease and safety when using a forklift. Made for forklifts to effortlessly load or unload freight, these ramps offer increased efficiency and productivity, as well as dependable and safe operation. When it comes to finding the right portable forklift ramp, Copperloy's customer service department can help pair you with the right ramp for your application. With an in-house engineering team, they can offer custom options as well. Customers get to choose a portable forklift ramp from dozens of different models, available in either steel or aluminum. Forklift ramps have capacities reaching 60,000 pounds, with widths of 70 or 84 inches, perfect for the weight of a loaded pallet and a forklift. All of Copperloy's mobile forklift yard ramps are 36 feet in length, with a 37 to 65 inch height range.
Used Yard Ramps for Sale
copperloy.com/loading-dock-equipment/yard-ramps/used-yard-ramps/
For those looking to get Copperloy's high-quality products at a fraction of the price, their used yard ramps may offer the best of both worlds. Buying used yard ramps provides your business with the same great quality and durability of Copperloy's industry-leading equipment, along with their factory certified products. Copperloy's used yard ramps still offer business's improved efficiency, productivity, and safety, along with the ability to create a loading dock where one doesn't exist. These used ramps come in a wide range of different ramps to serve your application. This collection includes: portable ramps, dock to ground ramps, and truck and forklift ramps, all available in a spectrum of different sizes, specifications and weight capacities, and either steel or aluminum.
Yard ramps available to rent
http://www.copperloy.com/loading-dock-equipment/yard-ramps/rentals/
Copperloy's yard ramps are also available to rent. This offers many different companies and facilities an ideal solution. Businesses can fill short-term or seasonal needs and rent a yard ramp, rather than investing in the purchase of new equipment. The rental option gives customers access to the same great quality and durability that Copperloy yard ramps are known for, with a low upfront cost. Without making any long-term financial commitment, Copperloy's yard ramp rentals still allow you to increase productivity, efficiency, and safety. All of the ramps available for renting from Copperloy are factory certified, with guaranteed quality and performance.
Copperloy carries a wide variety of mobile yard ramps that provide a loading and unloading facility where one isn't already established. This wide range of equipment includes: mobile yard ramps, dock-to-ground ramps, truck ramps, and forklift ramps.
In addition to yard ramps, Copperloy also manufactures a wide range of material handling equipment, including edge of dock levelers, dock lifts, lift tables, dock boards, rail boards, dock plates, and portable platforms. They also provide custom manufacturing and steel fabrication services to meet any business's unique needs and demands.
Copperloy provides a variety of other options to help ease the loading and unloading process, making freight easy and accessible. Learn more about Copperloy by visiting them online at Copperloy.com. Get started with high-quality yard ramp rentals or sales, by calling them directly at 800.321.4968.
About Copperloy
Copperloy has more than 50 years of experience manufacturing high-quality material handling equipment to meet the unique needs of businesses in a wide range of industries. They are a leader for durable and versatile edge of dock levelers, lift tables, dockboards and dock plates, platforms and ramps, dock lifts, and more. Plus, everything they produce is proudly made in the USA. With an expert in-house engineering team, Copperloy custom designs and builds equipment tailor-made to meet each client's specifications. Call 800.321.4968 for more information, or visit Copperloy.com.