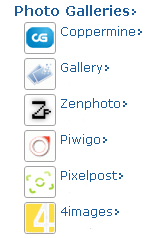 Coppermine vs. Gallery vs. Piwigo vs. Zenphoto vs. Pixelpost vs. 4images
(PRWEB) August 27, 2014
Threehosts.com compares the most popular photo gallery software and provides a collection of websites created by them.
A comparison of capabilities and features on Coppermine, Gallery, Piwigo, Zenphoto, Pixelpost and 4images and a showcase of live websites powered by each program are available at http://www.threehosts.com/ratings/comparison-software/coppermine-vs-gallery-vs-piwigo-vs-zenphoto-vs-pixelpost-vs-4images.html.
Coppermine is a multi-purpose fully-featured and integrated web picture gallery script written in PHP using GD or ImageMagick as image library with a MySQL backend.
Gallery is an open source project with the goal to develop and support leading photo sharing web application solutions. The Gallery project develops open source software licensed under the GPL, and is maintained and developed by a community of users and developers. The development is a distributed effort, with collaboration from around the globe.
Zenphoto is an answer to lots of calls for an online gallery solution that just makes sense. After years of bloated software that does everything, zenphoto just shows the photos, simply. It's got all the functionality and features users need, and nothing they don't.
Piwigo is a photo gallery software for the web, built by an active community of users and developers. Extensions make Piwigo easily customizable. Icing on the cake, Piwigo is free and opensource.
Pixelpost is a small photoblog application that's a no-brainer to set up and use. It's perfect for anyone wishing to regularly post their photos on the web like a blog.
4images is a powerful web-based image gallery management system. Features include comment system, user registration and management, password protected administration area with browser-based upload and HTML templates for page layout and design.
About Threehosts.com - Threehosts.com is a reliable resource for web hosting reviews and ratings. They provide best photography website hosting reviews for photographers to show which of them is the most recommended company.