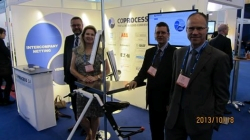 We chose Coprocess as they demonstrated a high commitment to us and to netting. The Proposal was comprehensive and the solution meets our needs. The Business Units particularly liked the dispute resolution and communication feature within Coprocess
Geneva, Switzerland (PRWEB UK) 3 April 2014
Belron wanted to improve the current intercompany settlement process. Treasury built a business case and conducted research into possible solution alternatives and netting providers. Belron issued a Request For Proposal (RFP) in November 2013. Coprocess submitted a proposal and presented this in December 2013 to various stakeholders in the selection team led by Lisa Stone, Group Treasurer. The team included members of the Treasury team, Information Technology and the subsidiary companies. Coprocess was rated highly.
"We chose Coprocess as they demonstrated a high commitment to us and to netting. The Proposal was comprehensive and the solution meets our needs. The Business Units particularly liked the dispute resolution and communication feature within Coprocess."
"We expect to see benefits in terms of savings in the banking system, ease of use for Treasury, automation and operational benefits for the subsidiary companies."- Lisa Stone, Group Treasurer, Belron.
The netting system will be hosted by Coprocess which has many benefits for Belron. The system will encompass Belron Group Treasury operations, including Autoglass and Carglass. It will make incremental savings in the banking system by reducing transactions and making the most efficient use of intercompany FX, help to improve the visibility of intercompany settlements and provide a platform for global subsidiary companies to settle and agree invoices
The Coprocess system will be integrated into Belron's existing Treasury environment, potentially linking to 360T for FX dealing, IT2 for IHB transactions and Reuters for market data updates and various Enterprise Resource Planning (ERP) systems. Files of intercompany transactions will be extracted from the various ERP's and imported into Coprocess. The Coprocess system will return files of paid invoices and journal entries for accounting purposes. The Coprocess system allows secure access for all users across the firm via the internet and interfaces into Belron's emails systems to provide the subsidiary discussion and dispute resolution process.
About Belron
Belron® is the only dedicated provider of VGRR services operating on a global basis, generating revenues of €2.8 billion in 2013. Belron® has operations in 35 countries worldwide, specialising in the replacement of irreparably damaged glass and the repair of chipped windscreens. Belron® has over 24,000 employees and 8,600 mobile repair vehicles serving over ten million motorists worldwide. Belron® is committed to continued geographic expansion both through the acquisition and integration of leading VGRR businesses and by developing a growing network of franchisees.
About Coprocess
Coprocess is the world's largest multilateral netting software company. Based in Geneva, Switzerland, Coprocess has been building multilateral netting system solutions for clients for more than 20 years. Today there are over 100 corporate clients using the Coprocess solution and it has staff in Japan, Sweden, Switzerland and UK.