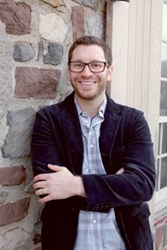 Boston, MA (PRWEB) November 12, 2013
Matthew Goldfarb, the lead copywriter at Corporate Renegade, a creative agency that crafts breakthrough copy, messaging and strategy for clients who want to stand out, get noticed and, ultimately, get paid, wrapped up his inaugural "What Do You Stand For?" live event for entrepreneurs on October 26, 2013 in New York City.
The live event focused on helping the 75 "renegade entrepreneurs" in attendance:

put their mission into their messaging, so they can avoid becoming a commodity
achieve clarity with who they are and what they stand for, so they can elevate themselves to a Category of One
turn their "why" into a compelling story that connects them to their target market, and inspires a relationship -- instead of indifference
"What Do You Stand For? invited 75 brave and altogether amazing renegade entrepreneurs to spend a day getting clarity on the why behind the what they do," commented Matthew Goldfarb. "It was an action-packed day that involved plenty of interaction, insights and inspiration. Ultimately, it was about helping people get the message that they are the most potent tool in their arsenal, and have the power to succeed far beyond their expectations."
And based on the overwhelmingly positive feedback that Goldfarb has received since the live event, that message was received loud and clear.
"Thanks to What Do You Stand For?, I have more clarity than before," commented Belinda Pruyne of the Business Innovation Group. "It was really exciting to see the lives that Matthew transformed in just one day!"
"If you are not sure how you stand out from the rest of the crowd, or if you are not sure what your message is, then run – don't walk – and connect with Matthew," commented Sue Guither of Thrive 4 Success. "What You Stand For? was a full day of eye opening `aha' moments, and I cannot wait until I connect with Matthew again!"
Those who were unable to attend the inaugural What Do You Stand For? live event, along with those in attendance who want to take their knowledge and awareness to the next level, can sign up for Corporate Renegade's two-day virtual workshop on December 7 and 8, 2013, which is designed to teach entrepreneurs how to create content that's in line with their unique message. More information is available at http://www.renegadeweekendwebsite.com/.
For more information or media inquiries, contact Matthew Goldfarb at 347.903.2679 or Matthew(at)corporaterenegade(dot)com.
About Matthew Goldfarb
Matthew Goldfarb is the lead copywriter and Chief Renegade Officer of Corporate Renegade. He's an award-winning copywriter and 10-year veteran of the Big-Ad Agency circuit. Matthew started his career writing television commercials for Mr. T and 1-800-COLLECT, and then went on to do work for Volvo, Subaru, Viagra, Dove, Campbell's Discover and more. In 2009, Matthew started Corporate Renegade as his way of leveling the playing field for small business owners and entrepreneurs. His company creates breakthrough copy and marketing messages to help his private clients stand out. He also teaches classes on how to create website content, write sales pages, and one's your unique movement, which ultimately leads to higher visibility and more clients.
Learn more at http://www.corporaterenegade.com.