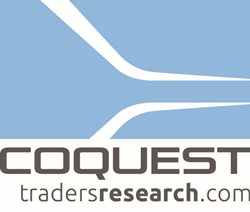 "Our goal is to provide key intelligence so investors can make informed decisions in their alternative investment journey," said Coquest Managing Director G. Maxwell Eagye.
CHICAGO (PRWEB) January 21, 2020
Coquest Traders Research has announced the unveiling of its newest online alternative investment and managed futures education hub and CTA resource center, Coquest Institute designed for the advancement of knowledge in the managed futures industry.
From discovering and defining key aspects of diversification and low-correlation strategies and opportunities, to delving into case studies on risk and protection, Coquest Institute features exclusive insight by 30-year futures and managed futures industry veteran, Mark Shore.
"I've developed training modules for college classes in managed futures and my research and educational expertise allows me to explain the products, asset allocation, and importance of risk management," Mr. Shore said. "I'm excited to bring this insight into Coquest Institute."
Visitors can join Coquest Institute at http://www.coquesttradersresearch.com for free access to commentary, white papers, case studies, strategy summaries, academic research and CTA profiles and index data.
"Members of the Coquest Institute never graduate, but instead, they forever seek to increase their horizons," said Coquest Managing Director G. Maxwell Eagye. "Our goal is to provide key intelligence so investors can make informed decisions in their alternative investment journey."
Coquest Traders Research is an online portal that is home to Coquest's proprietary database of managed futures program profiles and investment performance summaries, powered by Coquest Advisors. Hundreds of Commodity Trading Advisor (CTA) profiles and program statistics are available to users to help the selection process for their alternative investment portfolios. Starting in 2020 Coquest Institute will have curriculum that is Continuing Education Certified by the CFP board but applicable to all for further learning.
For more information and to get plugged in, visit http://www.coquesttradersresearch.com.
About Coquest Inc.:
Coquest Inc. was founded by John Vassallo and Dennis T. Weinmann in 1990 to leverage their energy trading and brokering expertise from working on the New York Mercantile Exchange. Today the company is a full-service brokerage and alternative investment consulting firm based in Dallas. It provides hedging and speculative services for clients in Energy and Agricultural industries. In 2015, it added Coquest Trade Services to pair up the best FCM services with clients. That same year it launched Coquest Advisors and Coquest Traders Research to aid investment advisors and family offices in vetting and designing alternative asset portfolios as well as develop and service trading advisors. Coquest Inc. is registered with the Commodity Futures Trading Commission and is a member of the National Futures Association (NFA). Mr. Vassallo served on the NFA board from 2002-2012. Coquest also is a member of the National Introducing Brokers Association. (http://www.coquest.com).
About Coquest Trade Services Group:
The Coquest Trade Services Group is a solutions-based provider to handle brokerage needs for all futures & options market participants, from hedgers to speculators to investors, around a multi-Futures Commission Merchants model. The Coquest Trade Services Group leverages relationships with multiple Futures Commission Merchants and Prime Brokers to provide a wide array of service to all its clients, including high net worth individuals, family offices, investment advisors, Commodity Trading Advisors (CTAs), Commodity Pool Operators (CPOs), hedge funds, public products, pension plans, endowment funds as well as energy producers & consumers. Tailored around the client's requirements, the Coquest Trade Services Group provides access to the best services from various brokers and other service providers to deliver an all-inclusive solution through a single point of contact covering the full life-cycle of a trade, from execution to clearing & collateral management to reporting & managing risk.