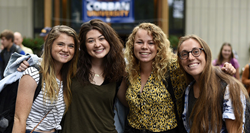 "The fact that we've seen such growth at Corban tells us we're doing something right, and students and parents are seeing that." - Dr. Sheldon C. Nord, President
SALEM, Ore. (PRWEB) September 04, 2019
Enrollment growth, combined with an impressive year for Corban's advancement team, points to a promising future and expanded opportunities for Corban students.
Over the past ten years, Corban has seen a 23% increase in the number of on-campus undergraduate students (702 total enrollment in 2009, compared to 865 total enrollment in 2019). In congruence with this growth, Corban University is excited to announce they've seen a nearly 15% increase over last year in the enrollment of new students and are welcoming approximately 296 freshmen, readmits, and transfer students this fall.
This increase is particularly encouraging in light of current national trends, which have seen a myriad of factors leading to the decline of college enrollment, including concern over cost and declining high school graduation rates. Dr. Sheldon C. Nord, President, says, "The fact that we've seen such growth at Corban tells us we're doing something right, and students and parents are seeing that. They're seeing the unique education we provide—Christ-centered, community-focused, and academically rigorous—and they're saying, 'Sign me up.'"
Dr. Christopher Vetter, Vice Provost for Enrollment Management and University Registrar, attributes this growth to several key factors. He says,

First, we have an incredible team. They're willing to do what it takes to get the job done. This accomplishment simply would have been impossible without the team we have in place.
Second, we streamlined our application this year, reducing the hurdles that come with long, complicated forms.
Third, our new and improved website is highly user-friendly, designed to make visitors' experience as straightforward and helpful as possible.
Fourth, we made key changes to the way in which transfer credits can be applied to Corban degree requirements, leading to a significant increase in the number of transfer students coming in this year.
Finally, we've been intentional about communicating our identity as a Christ-centered, Bible-based university. Our goal has been to make ourselves increasingly visible to the students who would be most likely to desire the unique education we provide.
Not only has Corban made strategic changes in their website and application, but new programs and extracurricular activities are also attracting new students. The addition of women's beach volleyball and men's wrestling have garnered approximately 14 women and 23 men, respectively, and Corban is excited to bring additional students to campus next year to compete with their new women's lacrosse team.
Finally, new and revised programs are better serving students' academic needs and creating an environment that increasingly prepares students for success in graduate school and their careers.
Learn more about revised undergraduate programs: https://www.corban.edu/corban-university-announces-changes-to-biology-kinesiology-and-psychology-programs/
In addition to traditional undergraduate programs, graduate and online programs are seeing growth. Although numbers aren't finalized yet, both online and graduate programs are on track to surpass last year's numbers regarding new students. Much of this growth is due to students' interest in Corban's Graduate Teacher Licensure, Master of Arts in Counseling, and MBA, although four brand-new master's programs are paving the way for future growth.
Learn more about new graduate programs:- https://www.corban.edu/corban-university-introduces-four-new-masters-programs-for-fall-2019/
In congruence with positive enrollment numbers, Advancement numbers have also been encouraging this year. Under the leadership of Chief Advancement Officer Terry Chaney, Corban's advancement team has succeeded in meeting their annual goal for the Corban Fund, the fund responsible for the majority of student scholarships. From academic to athletic to need-based awards, a significant portion of the scholarships awarded to Corban students will come from the money raised this past fiscal year (July 1, 2018–June 30, 2019).
Nord says, "This was truly a team effort. We've seen incredible investment and collaboration from the advancement team. And as always, our goal has been to help people get excited about Corban, excited about the work Corban is doing in the lives of students, and passionate about partnering with us. This year, we've been privileged to see that happen on impressive levels—and we're excited to see Corban increasingly recognized as a premier Christian University in the Pacific Northwest."
About Corban: Corban is a private university with an 80-year history of educating Christians to MAKE A DIFFERENCE. Situated on a beautiful forested hillside overlooking Oregon's capital, Corban is only an hour from Portland, the Cascade Mountains, and the Oregon coast. Academic excellence at the undergraduate, graduate, and doctoral levels, as well as online, prepares students for careers as business leaders, educators, medical professionals, politicians, ministry leaders, and more. Expert faculty, a tight-knit community, and opportunities for local and global engagement provide for students' growth both in and beyond the classroom.
Learn more about Corban University at http://www.corban.edu.