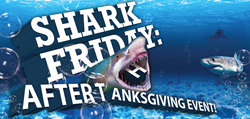 "If at least 20 CordaRoy's are donated, then I'll be in that big tank facing real, live sharks," Young said. "After how nervous I was on 'Shark Tank' and making that deal with Lori, this swim can't be that scary."
Minneapolis, MN (PRWEB) November 15, 2013
CordaRoy's owner and inventor, Byron Young, is getting in the holiday spirit, shark-style, at his Mall of America location offering a one-of-a-kind deal to benefit shoppers and two Twin Cities charities.
Young made his prime-time TV debut in March 2013 when he pitched the original foam-filled beanbag chairs that convert into beds on ABC's #1 hit TV show "Shark Tank." Lori Greiner was the shark who bought into CordaRoy's, becoming Young's business partner.
This year's "Shark Friday: After Tanksgiving Event" allows customers to buy two beanbag beds at regular price with an option to keep a third one free or donate it to a local charity in their name. This one-day promotion on Friday, November 29 from 6 a.m. to 10 p.m. benefits the families served by the Ronald McDonald House Charities - Upper Midwest and the Family Housing Fund.
"Any store can offer a Black Friday special, but we want to do something to help our customers and our community," Young said. "And if you're crazy enough about CordaRoy's to get up before the crack of dawn to stand in line, we want to give you something to extra to stand in line for."
Customers will get to see a live shark up close as part of this "Shark Friday: After Tanksgiving Event," too. A conservation team from the SEA LIFE Minnesota Aquarium at the Mall of America will accompany the shark tank in the CordaRoy's store to support this charity event. Sea Life Minnesota challenged Young to swim with the sharks at the aquarium, if CordaRoy's reaches its donation goal.
"If at least 20 CordaRoy's are donated, then I'll be in that big tank facing real, live sharks," Young said. "After how nervous I was on 'Shark Tank' and making that deal with Lori, this swim can't be that scary."
"Having a real live shark at CordaRoy's on Black Friday will give guests a Black Friday experience like no other and give them just a taste of what Byron experienced on the show, 'Shark Tank'," John Sullwold, Marketing Communications Manager at SEA LIFE Minnesota said. "We are also excited for Byron to experience SEA LIFE Minnesota's very own shark tank if they meet their goal."
CordaRoy's will also be offering other in-store promotions on Black Friday, so make sure to swim by to take a bite of the action.
About CordaRoy's
CordaRoy's has been making the world's first and only Beanbag Bed products since 1998. Our foam-filled design is patented and comes in a variety of sizes and styles, along with a host of accessories and bed protectors in fashionable looks for your home. Shop now at http://www.cordaroys.com. Follow us on Facebook at http://www.facebook.com/beanbagbeds or Twitter at twitter.com/beanbagbeds.
About SEA LIFE Minnesota Aquarium
SEA LIFE Minnesota Aquarium showcases over 10,000 sea creatures, allowing visitors to come face to face with animals never-before-seen in Minnesota. The transformation from Underwater Adventures to SEA LIFE, complete in March 2011, made it the third U.S.-based SEA LIFE location. With the newly opened Mysteries of the Rainforest in 2012, and Jellyfish Discovery in 2010, there is always something new and exciting for guests to discover. Now with the addition of Octopus Garden in spring of 2013, SEA LIFE Minnesota continues to feature more fascinating displays and creative hands-on activities, giving kids and families a new level of excitement and understanding of the world's oceans.