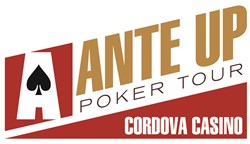 "This is a unique event for the Ante Up Poker Tour, and a tremendous value for everyday players to win their way on to the cover of a national poker magazine for $220." - Scott Long, publisher of Ante Up Poker Media
Clearwater, Fla., and Rancho Cordova, Calif. (PRWEB) January 29, 2014
Cordova Restaurant Casino is reintroducing itself to the Northern California poker community, and it's doing it in grand fashion by hosting an Ante Up Poker Tour championship that's going to put someone on the cover of Ante Up for just $220.
"This event for us is a way to tell everyone that we are back," said Robert Ketchum, poker director at Cordova Casino in Rancho Cordova, just east of Sacramento. "I think most poker players look for the 'most bang for your buck' and that's exactly what we are doing with this tournament. We want to give our poker-playing customers the opportunity to enjoy and fully play a game and have a pretty decent potential prize pool without completely breaking their wallets."
The Cordova Casino Ante Up Championship will be just the one main event as it kicks off the 2014 Ante Up Poker Tour season, and features two starting flights on Feb. 15 (10 a.m. and 7 p.m.). Players who advance to Day 2 will resume at noon on Feb. 16, with the champion earning cash, a seat in the Ante Up World Championship Main Event, a personalized Ante Up Poker Tour champion's jacket and his or her picture on the cover of the March issue of Ante Up Magazine.
Players will start with 8,000 units, and can get an additional 2,000 by registering before Feb. 1 and 2,000 more for a $10 dealer appreciation. Levels will be 20 minutes for the first three rounds, and 30 minutes for all remaining levels. Re-entry and late entry are offered.
"This is a unique event for the Ante Up Poker Tour, and a tremendous value for everyday players to win their way on to the cover of a national poker magazine for $220," said Scott Long, who, with Christopher Cosenza, is publisher of Ante Up Poker Media LLC, promoter of the Ante Up Poker Tour. "Ante Up has a strong following in Northern California, and we're expect a high degree of enthusiasm over this event at Cordova Restaurant Casino."
Cordova Restaurant Casino features a luxury lodge-like motif with a stylish decor sure to make all entrants comfortable while they play. The smoke-free casino features an elegant restaurant and bar, with a menu that ranges from ribeyes to quesadillas to Asian, and regular happy hours. Several major hotel chains have locations nearby. Two (Residence Inn and Hyatt Place) are offering discounted rates for players who mention Cordova Casino when booking.
Cordova Restaurant Casino's sister property, 101 Casino in Petaluma, just north of San Francisco, will host an Ante Up Poker Tour championship event in April.
To host an Ante Up Poker Tour event, or to sponsor the Tour, please contact Scott Long at (727) 331-4335.
-------------------------------------------------------------------------
Ante Up Poker Media LLC is a diversified poker media company, with products that include Ante Up Magazine, AnteUpMagazine.Com, Ante Up Poker Cruises, Ante Up Poker Tour, Ante Up PokerCast, Ante Up Poker Leagues, Ante Up Television and more.