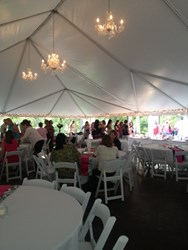 Core Compassion Project, set a new record for donations during the event.
Monroe, NC (PRWEB) October 05, 2013
Girl's Night Out at Morning Glory Farm, an event that benefitted a Union County charitable organization, Core Compassion Project, set a new record for donations during the event. With more than 120 supporters in attendance on September 19, a total of $6,500 was raised to help fund the Pilates-based rehabilitation program.
The event was also held to award a scholarship to Terrie Scudder, a local breast cancer survivor. As part of the scholarship, Ms. Scudder was awarded private sessions at Core Studio Pilates and Yoga, in historic downtown Monroe.
Raffle items were donated by many local Union County businesses and individuals. Event sponsors included Core Studio Pilates and Yoga, Glamour Owl, Kate Clyde's Catered Creations, Morning Glory Farm, Bass/FX Entertainment, Monroe Oil Company, Designing Women Interiors, Savings Unlimited, Green Tek and MCP Interactive.
Core Compassion Project is a non-profit organization dedicated to offering Pilates scholarships to cancer patients to attend a specialized program to reduce the side effects of cancer treatments and recover their mobility, strength, and range of motion following breast cancer surgery.
The program is designed for those with cancer to help ease the transition from treatment to returning to post-treatment daily life. The biggest issue faced by most cancer survivors is fatigue, both during and after cancer treatment.
Pilates offers strength, self-esteem and quality of life to survivors. For more information about the event, visit http://www.corecompassionproject.org.
To learn more about the organization, contact board vice president Heather Bostic at corecompassion(at)gmail(dot)com.
Media Contact
Heather Bostic
704-219-9153
info(at)corecompassionproject(dot)org