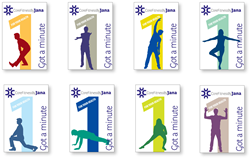 Jana's approach is simple, safe, professional and engaging, and that's what drew us to her product. Laura Sullivan, HSG Wellness Programmer
New York, NY (PRWEB) March 11, 2014
To help infuse exercise into Canada's work day and combat the effects of prolonged sitting Health Systems Group will be offering corporate wellness clients the Got A Minute For Your Health series of 1-2 minute workplace fitness videos. Via their web based wellness portals and soon via mobile app, Health Systems Group will deliver exercise options to client employees right at their desks, work sites and homes. The Got A Minute videos are 1-2 minute professional instructor lead workouts that can be done at the desk or anywhere. The exercises were specifically designed to combat effects of prolonged sitting, reduce tension and stress and energize to improve health and productivity without interrupting workflow.
Health Systems Group believes the CoreFitnessByJana online videos are an excellent resource to incorporate into their client corporate wellness websites as they meet the growing need for accessible, flexible and remote programming. "The Got a Minute series enhances our existing wellness programming and offers an easily accessible tool to help employees get out of their chairs without asking them to undertake a large time commitment they cannot make," says Laura Sullivan, Health Systems Group Wellness Programer.
"Got A Minute workouts are a great fit with Health Systems Group mission to provide practical workplace health solutions with an emphasis on the variable people are most able to change, fitness. At CoreFitness we believe just one minute can make a lifetime of difference," says founder Jana Sanford.
About CoreFitnessByJana
CoreFitnessByJana.com was founded by certified Pilates Instructor, ACE Certified Personal Trainer and Wharton MBA Jana Sanford with the goal of making fitness accessible and affordable for anyone at anytime.
CoreFitnessByJana provides a wide variety of online 10-20 minute fitness workouts as well as over 20 simple 1-2 minute "Got A Minute" do anytime exercise solutions available through licensing agreements, mobile apps or online membership to individuals. corporations, wellness and hospitality companies.
For more information about our Corporate Wellness Fitness Solutions, contact: health@corefitnessbyjana(dot)com or jana@corefitnessbyjana(dot)com.
About Health Systems Group
Health Systems Group provides professional consulting and management services in fitness, recreation and wellness. HSG is unique in Canada, with over 35 years of experience in partnering with organizations to help them achieve their fitness and wellness goals.
Website: http://www.healthsystemsgroup.com