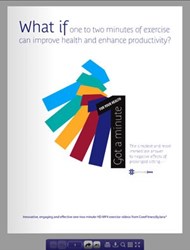 'Time and location should no longer be an excuse not to exercise. Just a few minutes of exercise anywhere can make a world of difference.' - Jana SanfordCoreFitnessByJana
New York, NY (PRWEB) September 30, 2013
This fall CoreFitnessByJana will be launching mobile fitness applications to put exercise opportunities right in the hands of the users and overcome the key roadblocks to fitness: time and access.
"Got A Minute To Go" will help promote movement and exercise throughout the workday by prompting users to get up from their desks and do 1-2 minute in office exercise videos. The Got A Minute mobile fitness app allows users to define the frequency of reminders and flag their favorite videos. In addition to combating the effects of prolonged sitting, the exercises help increase circulation,energy and productivity while teaching proper technique for do anywhere exercise.
"CoreFitness To Go" mobile application will incorporate CoreFitnessByJana's modular 10-20 minute no equipment required workouts and allow users to schedule time for their exercise, customize their workouts and monitor activity. CoreFitness To Go was designed to provide a cost effective and convenient fitness option when time, location or weather interfere with exercise routines.
About CoreFitnessByJana:
CoreFitnessByJana.com was founded by certified Pilates Instructor, ACE Certified Personal Trainer and Wharton MBA Jana Sanford with the goal of making fitness accessible and affordable for anyone at anytime.
CoreFitnessByJana provides numerous online 10-20 minute fitness workouts as well as simple 1-2 minute do anytime exercises for individuals, as well as licensed Corporate Wellness and Hospitality fitness solutions.
For more information about our Corporate Wellness Fitness Solutions, contact: health(at)corefitnessbyjana(dot)com or jana(at)corefitnessbyjana(dot)com.