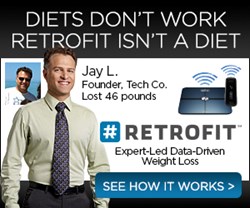 Time is precious but so is your body. In just a few minutes you can make a difference to your health and well being. - Jana Sanford
New York, NY (PRWEB) October 23, 2013
CoreFitnessByJana in-home fitness and Retrofit personalized weight loss coaching both offer online strategies for successful lifestyle change.
Retrofit's unique approach to weight loss uses Skype video conferencing to connect members to personal teams of exercise physiologists, registered dietitians and behavior coaches, as well as in-home technology to help members monitor their progress when and where its most convenient. CoreFitnessByJana virtual personal trainer solution is a natural fit for this weight loss program, with its vast library of do anywhere modular online exercise videos and mobile fitness apps that allow each member to customize workouts to their goals and time availability.
Both organizations believe in the value of taking little steps and the importance of self-empowerment for success, yet understand the time and accessibility challenges that hold people back from making health and fitness a priority. Through this affiliation members get discounts to each program for a convenient and cost effective total fitness and weight loss solution.
To kick off this new partnership. CoreFitnessByJana is offering 50% discounts on monthly or annual online fitness membership to new subscribers who utilize the code Retrofit.
About CoreFitnessByJana:
CoreFitnessByJana.com was founded by certified Pilates Instructor, ACE Certified Personal Trainer and Wharton MBA Jana Sanford with the goal of making fitness accessible and affordable for anyone at anytime.
CoreFitnessByJana provides numerous online 10-20 minute fitness workouts as well as simple 1-2 minute do anytime exercises for individuals, as well as licensed Corporate Wellness and Hospitality fitness solutions.
For more information about our Corporate Wellness Fitness Solutions, contact: health(at)corefitnessbyjana(dot)com or jana(at)corefitnessbyjana(dot)com.
For more information about Retrofit weight loss programs visit:
http://www.retrofitme.com/save/core-fitness-by-jana