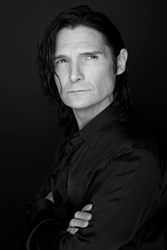 LOS ANGELES (PRWEB) March 03, 2022
Following Corey Feldman's full band performance at the Whisky a Go-Go in West Hollywood on 2/22/2022, the music video for his single "'Comeback King" featuring Curtis Young has garnered viral attention. In just one week the video has well over 222,000+ views on his official YouTube channel.
"I'm thrilled and elated that people are loving this video," said Feldman. "I'm loving the feedback, as well. Everyone can relate to being bullied and fighting your way back. It's really connecting with a lot of people."
View the video here: https://youtu.be/0m7yHvEjWSE
The new "Comeback King" video was created by CiFi Records and Truth 22 Productions and serves as the first video from Feldman's brand-new album Love Left 2: Arm Me With Love which is currently available only within the Love Left 2.1 Box Set. In the coming weeks, Feldman will release a brand-new remix of "Comeback King" by BLAZAR (Jerad Finck), the CEO of cutting-edge multimedia company Cosmic Wire.
On March 31, Feldman will release his first Picture For Profile (PFP) NFT powered by Cosmic Wire, paying tribute to his roles in iconic films such as The Goonies, Stand By Me, Teenage Mutant Ninja Turtles, The Lost Boys, and Dream A Little Dream.
Limited to 2,222 pieces of varying rarity, those who hold the NFT will have exclusive perks including access to the upcoming Corey Feldman "Feldaverse" metaverse, the chance at a VIP meet and greet with Feldman himself (virtually or in-person), various NFT and ETH giveaways, and more.
"I'm excited for the upcoming PFP NFT launch which will serve as a nod to some of my most iconic roles throughout my acting career. With the art the Cosmic Wire is creating, I think fans are going to be super hyped for this."
For more information on the NFT drop, please visit: https://cosmicwire.com/corey/
The upcoming drop is the second NFT collaboration between Feldman and Cosmic Wire, with the first being a hybrid NFT auction of the prosthetic ear Feldman wore while starring at Teddy Duchamp in the iconic film Stand By Me.
For more information, please visit http://www.coreyfeldman.net or http://www.cosmicwire.com