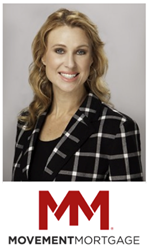 San Diego, CA (PRWEB) July 22, 2014
Cori Fusselman, Mortgage Loan Officer with Movement Mortgage, one of the nation's fastest growing private companies according to Inc. Magazine, was recently invited to join San Diego's Inland North County chapter of Business Network International (BNI). Serving the residential real estate purchase and refinance market in San Diego County and beyond, Movement Mortgage offers its clients a broad assortment of innovative real estate finance options.
Since its founding in 2008, Movement Mortgage has grown into a 1,200 employee organization that ranks in the top 25 purchase mortgage banks in the country. The reason for this unprecedented success is Movement Mortgage's ability to deliver excellent service and impressive real estate loan products to its clients. Key among the organization's services are its commitment to process loans within seven business days and the practice of performing upfront underwriting to reduce risk for buyers and sellers.
The addition of Cori Fusselman to BNI's Inland North County chapter brings a variety of innovative real estate financing options to local home buyers and sellers. In addition to traditional fixed rate loans, Movement Mortgage offers FHA, VA, and conventional loan products, as well as, adjustable rate loans and jumbo loans. One unique Movement Mortgage loan product offered by Cori Fusselman, renovation loans, combines the costs of the property and its renovation into a single mortgage loan.
Founded more than 25 years ago, BNI is an international network of chapters with over 145,000 members whose sole mission is to help members succeed through personal networking and referral marketing. Generating over $3 billion annually in referral business for its members, BNI is the largest international organization of its kind.
BNI chapter membership is limited to a single individual within each profession or business sector. In addition to the mortgage lending industry, now represented by Cori Fusselman, the Inland North County BNI chapter also boasts local experts from industries as diverse as Internet marketing, insurance, finance, home improvement, architecture, engineering, nutrition, fitness, and legal services.
Cori Fusselman (NMLS #632864) is located in the Scripps Ranch, California, office of Movement Mortgage and serves residential mortgage clients throughout San Diego County. For more information contact Cori at (858) 435-5011 or at http://www.movementmortgage.com/loan-officers/cori-fusselman/
###
CA-DBO632864 | Movement Mortgage, LLC is an Equal Housing Lender. NMLS ID# 39179 (http://www.nmlsconsumeraccess.org) | 877-314-1499. Movement Mortgage, LLC is licensed by "CA Department of Business Oversight under the California Residential Mortgage Lending Act" # 4131054. Interest rates and products are subject to change without notice and may or may not be available at the time of loan commitment or lock-in. Borrowers must qualify at closing for all benefits. "Movement Mortgage" is a registered trademark of the Movement Mortgage, LLC, a Delaware limited liability company. 841 Seahawk Cir, Virginia Beach, VA 23452.