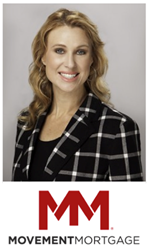 San Diego, CA (PRWEB) August 29, 2014
Cori Fusselman, Mortgage Loan Officer with Movement Mortgage, one of the nation's fastest growing private companies according to Inc. Magazine, recently addressed San Diego area Keller Williams Realtors on the benefits of Renovation Loan products for their real estate clients. Renovation Loan products combine costs for purchase, immediate upgrades, and renovations into a single mortgage.
As the nation's housing stock ages, many resale homes require upgrades or renovation immediately upon purchase. Traditional mortgage financing limits the loan amount on the current appraised value of the home, less the required down payment. This leaves the cost of any renovation to be financed outside the mortgage loan. Under federal lending guidelines for Renovation Mortgage Loans, home buyers can include the cost of upgrades and renovations in their first mortgage.
In her presentation to Keller Williams Realtors, Cori Fusselman reviewed guidelines for conventional and FHA loan products employing this inventive renovation loan strategy. The primary benefit of these products is that they combine the purchase price and renovation costs into a single, amortized mortgage. Conventional Renovation Loans have a 5%-10% down payment option.
Repairs must be fixed to the property and add appraised value. Conventional renovation loans allow luxury items, so long as they fit all other criteria, and may be included in a Renovation Loan mortgage.
FHA borrowers can also utilize this process. Called a FHA 203K Renovation Loan, these mortgages require a 3.5% down payment and have a maximum loan amount of $546,250.
According to Cori Fusselman, "Home buyers interested in combining purchase price and renovation costs will find Renovation Loan products a very competitive alternative to traditional financing."
Cori Fusselman (NMLS #632864) is located in the Scripps Ranch, California, office of Movement Mortgage and serves residential mortgage clients throughout San Diego County and beyond. For more information contact Cori at (858) 435-5011 or at http://movement.com/lo/cori-fusselman/
###
CA-DBO632864 | Movement Mortgage, LLC is an Equal Housing Lender. NMLS ID# 39179 (http://www.nmlsconsumeraccess.org) | 877-314-1499. Movement Mortgage, LLC is licensed by "CA Department of Business Oversight under the California Residential Mortgage Lending Act" # 4131054. Interest rates and products are subject to change without notice and may or may not be available at the time of loan commitment or lock-in. Borrowers must qualify at closing for all benefits. "Movement Mortgage" is a registered trademark of the Movement Mortgage, LLC, a Delaware limited liability company. 841 Seahawk