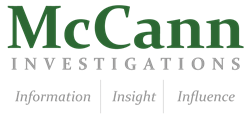 Embezzlement cases are quite complicated, which is why this information gathering phase is extremely important to our investigations.
Houston, TX (PRWEB) April 01, 2014
McCann Investigations, a Texas-based firm that provides high-quality digital security and private investigations services throughout the state, announced that its Houston location offers thorough analyses of background information and corporate intelligence in embezzlement cases. With growing use of social media beyond the personal and into the business world, careful analysis of internet data is a key component to gathering evidence in embezzlement cases.
Embezzlement is defined as the conversion of assets by a person entrusted with those assets for some form of personal gain. These cases can become extremely complicated, but the first step that McCann's Houston investigators use in this type of case is to carefully research the investigation target's background. In this way, the agency can learn as much as possible about the target before beginning the actual investigation, which can influence the methods used later on.
"Embezzlement cases are quite complicated, which is why this information-gathering phase is extremely important to our investigations," said Daniel Weiss, Managing Partner at McCann Investigations. "Getting all of the knowledge we need in the early stages of the investigation sets us up for success as we move on to actual surveillance and other tactics."
The background investigations that McCann's Houston investigators use in embezzlement cases typically begin with finding the nature of the problem, the source of the issue for the client and what the client might know about the investigation target. From there, investigators can form a clearer picture of the target they're analyzing.
Once the McCann investigators have the answers to those initial questions, they can begin to review other background information including criminal records, civil issues, assets and the target's digital footprint.
"All of our private investigators in Houston have undergone rigorous training and have significant experience in their practice area," said Weiss. "We strongly believe that our services are crucial in uncovering important evidence in embezzlement cases."
For more information about the services provided by McCann Investigations in the Houston area, visit the company's website at http://www.mccanninvestigations.com and follow the company on Twitter at @mccangi.
About McCann Investigations
McCann Investigations is a Texas-based private investigations practice focused on comprehensive investigations incorporating digital forensics, surveillance, undercover work and background checks for clients in various case types. Service areas include intellectual property theft, non-compete enforcement, fraud, embezzlement and family law. McCann Investigators are experts in the latest computer forensics tools and are licensed with the state of Texas. McCann examiners have provided expert testimony and reporting in hundreds of cases across the state.