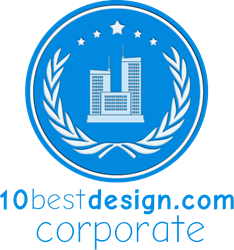 NYC, New York (PRWEB) October 08, 2014
10 Best Design just provided its updated list of the best corporate web design firms around. They named 10 of the top enterprise web design companies in existence. Corporate web design, also known as enterprise web development, refers to website design that helps websites for corporations appear professional, informative, modern and user-friendly to prospective and existing clients and customers.
Blue Fountain Media is the #1 best corporate web design agency on 10 Best Design's new list. Blue Fountain Media, which is located in New York City, is a prominent website development firm that provides a number of different yet efficient services. If a corporation is searching for web development, innovative design or consulting and strategy assistance, to mention several examples, Blue Fountain Media can be extremely useful and effective.
Big Drop Inc. follows Blue Fountain Media on 10 Best Design's illustrious list of the finest corporate web design companies. Big Drop Inc. also is based out of New York, New York. The firm accommodates corporate web design needs through specialties such as branding, design, animated videos and, last but certainly not least, marketing. They focus on offering all of their clients attentive and diligent services, no exceptions.
10 Best Design selected Maxburst to fill the number three slot on the list. Maxburst is a reputable web development and web design agency located in Farmingdale on Long Island, New York. This company has been in existence for many years already. During their time in business, they've been the recipients of a number of awards hailing their effectiveness and strength in web design. When Maxburst works on web design projects for their clients, they concentrate on four key components. These four components are discovery, planning, execution and, lastly, delivery. Corporate clients of Maxburst respond very well to these components.
While Blue Fountain Media, Big Drop Inc. and Maxburst lead the way on 10 Best Design's distinguished list, they're far from the only corporate website design agencies that the organization honors. The other top-notch corporate web design companies that the list names are Old City Press, The Creative Momentum, Hudson Horizons, Dotcomweavers, Forix Web Design, Dotlogics and finally, Cadre. If your company is in need of first-rate corporate web design services, these firms are all ideal for the job.