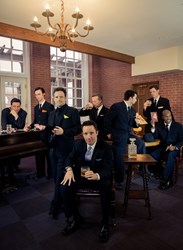 Unrivaled, rare talent
Dallas, TX (PRWEB) December 17, 2013
Improvisation groups are often a dime a dozen, but Four Day Weekend is a rare find. For over a decade now, the group has been selling out of tickets and delighting audiences with their hilarious shows. Distinguishing themselves from the competition, they marry high-value theatrical production elements with the fast-paced nature of live, unscripted performances, relying on audience interaction to drive the substance of the show while leveraging lighting, music and video to enhance the experience.
"We're as far away as one can get from the stereotypical improvisation group," explains David Wilk, a founding member of Four Day Weekend. "You won't find us relying on potty humor or crude jokes to get a reaction. We want to deliver a show that makes people feel good about laughing."
The quality of their productions, paired with a commitment to delivering fresh, engaging comedy that resonates with diverse audiences, has paid off. The group has performed across the globe, received a standing ovation after performing for the United States Congress and met President Obama in the process. Proving that comedy is bipartisan, Four Day Weekend also recently shared the stage with former President George W. Bush. They routinely book over 100 corporate shows a year, with such prestigious clients as FedEx, DISH Network, and Sprint seeking them out for their events. They were given a great honor when Mayor Mike Moncrief presented them the Key to the City of Fort Worth for being "Fort Worth's Greatest Ambassadors"
Four Day Weekend was described as "…funniest men in town…possibly the nation" by Fort Worth Magazine.
"As good as improve gets!" commented Deborah Voorhees of The Dallas Morning News.
Consistent reviews such as these led the group to experience a record year in public show attendance and corporate bookings in 2013, and the crew is even more excited for 2014.
"We are so grateful for what has been an incredible ride so far," says Wilk. "The coming year is going to be even bigger. We're constantly working to improve our team and performances, and are confident that 2014 is going to be the best year for Four Day Weekend yet."
Four Day Weekend tickets are available for purchase on the group's website and at the door. For more information on booking Four Day Weekend for a corporate event, click here.