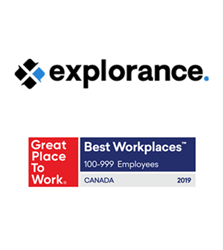 Monitoring learning measurements helps us know the level of alignment with business goals, which explains our recent ranking on this list.
MONTREAL (PRWEB) April 26, 2019
Explorance, the leading Learning Journey Analytics (LJA) solution provider, announces today that it ranks 4th on this year's Great Place to Work Institute's Canadian companies list. Last year, the employee count more than doubled, resulting in positioning the company in the medium-size organization category. Even though Explorance changed categories, the company remained in the top 10. The "secret recipe" behind the continued recognition stems from the constant improvement which is part of its workplace culture and the alignment of business priorities with corporate learning practices tailored to employee needs.
Explorance specializes in the design of solutions that measure effectiveness in Learning and Development (L&D) programs.
"We consider learning as a vital process that improves the impact that our employees have on the business growth. Monitoring learning measurements helps us know the level of alignment with business goals, which explains our recent ranking on this list," says Samer Saab, CEO of Explorance. Explorance shared more information about the link between company culture, learning measurements and employee development in a presentation given by Dr. John R. Mattox, II, Principal Consultant, at the Great Place to Work® Conference.
Great Place to Work® is the global authority on high-trust, high-performance workplace cultures. It is a global research and consulting firm that provides the benchmarks, framework, and expertise needed to create, sustain, and recognize outstanding corporate cultures. In Canada, Great Place to Work® produces both industry and demographic-specific Best Workplace™ lists. Five trust-building dimensions are taken into account to evaluate who makes it onto the annual national list: credibility, fairness, respect, camaraderie, and pride. Commitment to these dimensions during the development of new employee engagement strategies ensures the recognition of these high standards in organizations.
To find out how your organization can achieve a similar ranking on the Great Place to Work® list, learn more about learning and development effectiveness.
About Explorance
Explorance, a Learning Journey Analytics provider, supports organizations in making the right decisions with fact-based feedback data. Through its offerings, Blue and Metrics that Matter, Explorance is at the heart of the learning organization's continuous improvement strategies. By assessing needs, expectations, and competencies, organizations can analyze with the full picture in mind and monitor improvement over time.
Founded in 2003, Explorance is headquartered in Montreal with business units in Chicago, Amsterdam, and Melbourne. Explorance's clients span a variety of learning organizations from various segments including academia, enterprise, consulting, and government across the globe. Since 2014, Explorance has been consecutively ranked as a top employer by the Great Places to Work Institute®.