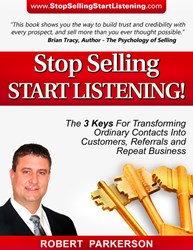 This book shows you the way to build trust and credibility with every prospect, and sell more then you ever thought possible. Brian Tracy, Author, 'The Psychology of Selling'
Dallas, TX (PRWEB) August 27, 2013
As Dallas' Premier Keynote Speaker and Sales Trainer, Robert Parkerson empowers, inspires, and educates executive staff and sales managers on how to transform ordinary contacts into lifelong customers. This highly requested Business Consultant, Sales Trainer, and Best-Selling Author creates a 'Dallas Double-Take' when it comes to bringing in a high energy, high content speaker or trainer to your next corporate training or motivational seminar.
Robert comes out strong and gets right to the heart of the issues that are causing sales professionals to fail. "I can't wait to get in front of your audience and show your incredible people how to break all of their previous records by making only a few minor adjustments to what they are already doing," shares Mr. Parkerson. "You will finally get access to all of the secrets that other sales trainers aren't telling you because they simply don't know."
He shatters the myths that have been taught for years that have never worked and never will. Then he tells you why they don't work and what does. In his seminars, consultations, and his top selling books, Parkerson gives you the essential information in a much distilled format without all of the confusing "fluff." A straight shooter, Robert trains your staff about the nuances that they are missing and gives your team the tools to utilize in their very next sales call!
Relationships built on conscious, active listening have proven successful for Parkerson, as he has been at the top 5% in sales for every company he has ever represented. Expanding on the value of listening to generate real relationships, Robert outlines three primary facets to include in your conversations with your next client or prospect, which will leave them with a BIG Impression:

Create a personal relationship by REVEALING the customer's subconscious DESIRES, rather than spouting off to them what they NEED.
Become a master listener by asking your client more accurate, specific questions. Rather than focusing on educating the client on what YOU know about the product you are trying to sell, Robert shows you how to "walk the dog."
Develop a form of tracking to determine if they are motivated by pain avoidance or pleasure principles. In learning about their core motivation, you will build a better personal touch when closing the sale and when conducting follow-ups.
Now, as an Executive Business Consultant and trainer, Robert leads high-level executive staff and sales managers to excel in their sales and recruitment. Anne Yung of Coca-Cola Corporation had this to say: "Incredibly effective! Robert's presentation is the single best answer for companies who want to see their employees/agents become more profitable than they have ever been."
For booking the master of "Relationship Selling" at your next event, conference, or training or to schedule a radio, television, or print interview, contact Andrea Adams-Miller, Senior Agent, of The RED Carpet Connection Publishing, Publicity, Talent Agency at info(at)TheREDCarpetConnection.com or 419-722-6931.
About Robert Parkerson:
Known as "America's Leading Authority on Relationship Selling," Robert Parkerson is a highly sought after professional speaker, BEST-SELLING author and success coach who has delivered over 1000 presentations in the area of sales, leadership and motivation. As CEO and Founder of RPI, Inc. as well as RobertParkerson.com, he has over 20 years of very successful applied business experience in the public and private sectors. He is making a difference in the lives of thousands of people all across the United States and Canada with his speaking venues, private coaching, and consulting programs.
Robert has received dozens of awards and was one of only three people to ever earn the coveted Chairman's Award for Excellence from Mainstreet Financial Group. He also was chosen to receive the Diamond Leadership Award from the Alabama Society for Entrepreneurs, which is the highest award and honor among participating businesses in Alabama. Earlier this year, he was inducted into the National Academy of Best Selling Authors™.
Parkerson works include the co-authored 5 time BEST SELLER, Nothing But Net; The World's Leading Speakers, Trainers and Entrepreneurs Reveal Their Top Secrets To Increase Your Bottom Line Health, Wealth and Success. Additionally, he was invited to co-author a book with New York Times Best-Seller Brian Tracy for the book Jump Start Your Success; 9 Top Speakers Share Their Insights for Creating More Success, Wealth, and Happiness, Vol. 2. He also authored the top selling book, Stop Selling, Start Listening; The Three Keys To Transforming Ordinary Contacts Into Customers, Referrals and Repeat Business.
About The RED Carpet Connection:
The RED Carpet Connection Publishing, Publicity, and Talent Agency aspires to get you published, get you publicized, and make it profitable. As a premier hands-on full service agency, the personal touch with staff are sure to make your experiences from the first call to the RED carpet one to remember. From publishing seasoned authors to consulting the book out of an author wanna-be to ghostwriting to cover design to booking you on stages, television and radio, this agency excels in taking you to the top of your potential. Interesting in finding out what the future holds for your career as an actor, writer, speaker, or other talent? Contact the RED Carpet Connection to shine the spotlight on you. http://www.TheREDCarpetConnection.com