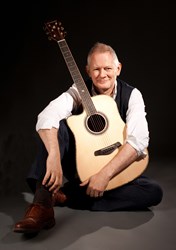 We've got a great story to tell: inspirational and informative. Perfect for motivating a corporate audience.
Norwich, Norfolk, United Kingdom (PRWEB UK) 1 October 2013
The founders of British-business The Great British Banjo Company are offering the story of their enterprise as an inspirational and educational corporate conference presentation. It's a natural move for the two entrepreneurs, Simon Middleton and Nigel Cushion, who are already experienced public speakers.
Simon Middleton, founder and MD of The Great British Banjo Company, is the author of three commercially published books, including the small business bestseller 'Build A Brand In 30 Days' and the personal development guide 'Brand New You'. Middleton is an in-demand brand adviser and has consulted with some of the world's best known companies and has presented keynote speeches all over the world.
Nigel Cushion, who is Chairman of the company, is one of the UK's leading independent company chairmen, a popular speaker in his own right, and founder of the leadership and community movement 'nelsonspirit'.
The two entrepreneurs are funding the development of The Shackleton banjo on the crowd-funding platform Kickstarter.
The Kickstarter is the first mass-market banjo to be manufactured in Britain for more than 60 years.
Pledges totaling more than £20,000 ($32,000) have already been received towards the target of £30,000 ($48,000), which will enable the company to produce its first batch of the British-made instrument.
Now the two entrepreneurs are offering a unique corporate conference presentation as a Kickstarter reward.
"We both have background in presenting to conferences, running workshops and seminars, and public speaking," explained Simon Middleton.
"We have got a fantastic story to tell on the subject of how to create a brand and business out of nothing, using the power of authentic storytelling, and leveraging the fundraising potential of platforms like Kickstarter. We know it's an inspiring story on so many levels, so we are offering ourselves as a 'double act' to corporate conference organisers," Middleton added.
A presentation and workshop by Middleton and Cushion requires a pledge of £3,000 ($4850). Travel expenses outside of UK will be costed separately.
The Shackleton Banjo is named in honour of Sir Ernest Shackleton, the British explorer who led the Imperial Trans-Antarctic Expedition in 1914.
The banjo belonging to the expedition's meteorologist played an unexpected but vital role in the journey, after Shackleton's ship Endurance was crushed by ice and had to be abandoned.
Although each man was only allowed to take two pounds in weight of personal possessions off the ship, Shackleton made an exception for the banjo, famously declaring: "We must have that banjo, it is vital mental medicine."
It proved a wise decision, because when Shackleton and a small team had to leave 22 men trapped on Elephant Island for several months while they set off on an 800-mile voyage in a small open boat to seek for help, the banjo played a vital role in maintaining morale for those left behind.
The marooned men held regular concert parties and wrote songs on the banjo.
"It's a fantastic story of British pluck and determination," explained Simon Middleton, "and it has inspired us to undertake our own adventure: to build an affordable banjo in Britain, which has not been done for so many decades."
"We are thrilled with the response from banjo enthusiasts, as well as from people who just want to support British manufacturing," Middleton added.
Company Information:
The Great British Banjo Company Limited, which also owns online specialist store Banjos Direct, is based in Norwich, Norfolk, UK.
The company works with local craftsmen as well as instrument manufacturers in other parts of Britain.
The business was founded by brand adviser, business author and musician Simon Middleton and has grown rapidly to become the UK's best known banjo specialist retailer and manufacturer.
In 2012, the company launched the Islander Ash Leaf banjo, hand-made for the company in England by Malcolm McLeod, which has received glowing reviews from professional players in the UK and the USA. The Great British Banjo Company is a private limited company, owned and managed by a small group of family and friends in Norwich, Norfolk, UK.
For further information, visit: http://www.thegreatbritishbanjocompany.com/.