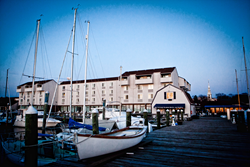 "The America's Cup 12 Meter Yachts create a superior experience to develop teamwork, communication, and leadership throughout your group," stated Debbie Neves, Director of Sales at The Newport Harbor Hotel and Marina
Newport, RI (PRWEB) March 05, 2014
The Newport Harbor Hotel and Marina, the preferred hotel in Newport, Rhode Island, recently announced the availability of their America's Cup Charters Meeting Packages. Ideal for any corporate event, the hotel has teamed up with America's Cup Charters to give guests the full Newport experience.
"This package is a really exciting opportunity for any business meeting or retreat. The America's Cup 12 Meter Yachts create a superior experience to develop teamwork, communication, and leadership throughout your group. It truly is a once in a lifetime experience that your attendees will not soon forget," stated Debbie Neves, Director of Sales and Marketing for The Newport.
There are two options available for this corporate teambuilding meeting, both include the opportunity for a general meeting as well as team building on the yachts. The smaller option, for 10 to 14 people, is The On Board Meeting. For bigger parties, there is the larger package; The Sails Meeting.
The On Board Meeting includes a sail on the America's Cup 12 Meter Yachts with a morning filled with the Captain's choice of activities from a navigation, sailing, or speed challenge. Upon returning from the morning sail, all members will receive a complimentary Dark and Stormy, followed by a general session meeting. Dinner at the Newport Harbor Hotel and Marina is included as well.
The Sails Meeting, accommodating a group of 20-50 people, includes a general session meeting prior to meeting with the Captain from America's Cup Charters. The afternoon will be filled by a sailing regatta on the legendary yachts with a traditional New England Clam Boil and trophy presentation on the Marina Lawn to follow.
For more information about planning your next corporate adventure, contact the "Sails" and Catering Office at The Newport at 401-848-3304, or newportsales@shanercorp.com.
About the Newport Harbor Hotel and Marina:
The Newport Harbor Hotel and Marina is Newport, Rhode Island's premier destination for meetings and events. Located on America's Cup Avenue in the heart of Downtown Newport, the 133-room hotel provides breathtaking views of both Newport Harbor and Queen Anne Square, with over 6,500 square feet of flexible meeting and event space. http://www.newporthotel.com
The Newport Harbor Hotel and Marina is owned and operated by Shaner Hotel Group.