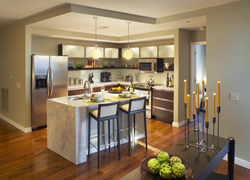 ...our main mission is to make our customers feel at home during their temporary housing stay
St Louis, Missouri (PRWEB) February 23, 2015
Arch Interim Housing announced two additions to their St Louis luxury corporate housing properties. The two locations join a long list of available St Louis extended stay housing for corporate executives available from Arch Interim Housing.
"Choosing St Charles as one of our new St Louis furnished apartment locations was an easy decision to make," said Arch Interim Housing CEO Robb Lax of the newly built Residences at Streets of St Charles location. "St Charles is well known for its historic charm. We wanted to give corporate executives staying in St Louis an option to live in modern luxury while still retaining the historic feel of the St Charles area. Our new St Louis corporate housing location at the Residences at Streets of St Charles is a perfectly integrated mixed-use setting. Each high quality, full furnished apartment features a washer and dryer, memory foam mattresses, high speed internet, and housewares for the kitchen, bath, and bedroom. One of the most appealing aspects of this recently constructed luxury living complex is its central St Charles location. The St Charles corporate apartments offer convenient access to major highways as well as access to all that historic St Charles has to offer."
The second addition of luxury extended stay suites in St Louis from Arch Interim Housing is Vanguard Crossing, located in University City near the U City Loop. "We knew a University City location for our St Louis corporate apartments was the right choice," said Mr. Lax on the Vanguard Crossing corporate housing apartments. "Along with our newly constructed location in historic St Charles, we wanted corporate and furnished apartments in St Louis that would showcase the rich artistry and culture of the city. The Vanguard Crossing location is the perfect combination of that. This sophisticated St Louis corporate housing apartment community is within walking distance to Clayton. In addition, our new University City luxury apartments are just minutes from Downtown St Louis, great restaurants and entertainment via easy access to highways. Our Vanguard Crossing corporate living complex offers many lavish features, including on site car wash facilities, a saltwater swimming pool with outdoor kitchen and cabana areas, and a climate controlled wine cellar. All of our St Louis luxury corporate housing apartments are fully furnished because our main mission is to make our customers feel at home during their temporary housing stay."
With the newly constructed St Charles and University City locations, Arch Interim Housing offers more than 30 St Louis luxury corporate housing locations. The full location list and details on each corporate housing facility can be found on Arch Interim Housing's website. Also available on the website is a virtual tour of one of the fully furnished luxury apartments.
Arch Interim Housing is locally owned and operated in St Louis, Missouri at 897 Fee Fee Rd, 63043. Both of the new temporary housing locations in St Charles and University City, and their existing St Louis luxury housing facilities, are available for extended stay tenants with a minimum stay of 30 days.
For more information on St Louis luxury temporary apartments, you can view Arch Interim Housing's website by visiting http://archinterimhousing.com/.