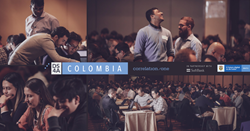 NEW YORK (PRWEB) October 21, 2019
On October 9th, 2019, Correlation One and MINTIC (Colombia's Ministry of Information & Communication Technology) launched a nationwide program to train 300 of the country's top technologists and data professionals. The program was launched under Correlation One's global 'Data Science for All' initiative (DS4A), whose stated mission is to democratize the field of data science and increase data literacy globally. Over 10,000 professionals across Colombia applied to the program. Participants were selected based on technical proficiency (measured by Correlation One's Data Science Assessments platform), academic credentials, and relevant work experience.
The partnership between Correlation One and MINTIC was forged as the Colombian government ramps up efforts to create more tech jobs and satisfy the current demand for AI talent in Latin America. The partnership was facilitated by leaders at global venture capital investment firm, Softbank. The 10-week, 288-hour program will focus on job-readiness and industry-specific applications of data science, with a goal of preparing every participant for hands-on advanced data science careers.
"Data literacy is the most important skill of the future," said Rasheed Sabar, Correlation One Co-Founder and Co-CEO. "Colombia has all the foundations in place--incredible STEM talent, supportive institutions, a fast-growing startup community--to develop a robust AI ecosystem. With our training program, we are creating talent layer of this ecosystem. We are excited to partner with MINTIC to help execute it's vision of making Colombia a world leader in AI."
"This program will absolutely change the lives and career trajectories for hundreds, and eventually, tens of thousands of Colombians," said Sham Mustafa, Correlation One Co-Founder and Co-CEO. "Countries need a strong data science talent ecosystem to be able to harness the power of AI technologies."
The 300-person pilot program is taking place simultaneously across four cities: Bogota, Medellin, Cali, and Barranquilla. The training content will be delivered via a combination of livestream and Correlation One's online training platform. Live video lessons will be led by Professor Natesh Pillai, Correlation One's Chief Scientist and tenured professor of Statistics at Harvard University.
At the end of the 10-week training, participants, in small teams, will present their own original data science projects to Latin America's top technology employers, corporations like Softbank, Avianca, Ecopetrol and Rappi. There are plans to expand the program upon successful completion of the 300-person pilot.
"We have assembled the talent that will take Colombia into the fourth industrial revolution," said Sylvia Constain, the head of MINTIC, during the program's opening keynote. "If all goes well, when we expand the program, we want you to be the ones up here telling the next generation of data scientists across the country what we plan to accomplish, why it's so important, and what we did here."