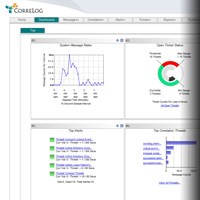 Both of these upgrades account for greater usability along with the flexibility to 'talk' to more complementary SIEM systems.
Naples, FL (PRWEB) February 12, 2014
CorreLog, the leader in multi-platform IT security event management, today announced two major new releases for its two InfoSec flagship products CorreLog Enterprise Correlation Server and CorreLog Agent for IBM z/OS. Both releases are numbered 5.4.0 and there are significant new features incorporated into each release.
Enterprise Correlation Server Release 5.4.0 Details
CorreLog Correlation Server Version 5.4.0 is a major new release, incorporating new updated documentation, new features, and a complete roll-up of all prior patches and versions.

New "score card" functionality has been added to 5.4.0 to allow users to tabulate metrics associated with general security, PCI DSS, HIPAA, Sarbanes-Oxley and other compliance standards. These score cards allow the user and auditors to rapidly review the setup and efficiency of the CorreLog message system with respect to one or more compliance standards.
The CorreLog Windows Agent has been modified so that Windows "Application and Service" logs can now be directly monitored without installing any "adapter" at the agent. This expands the role of the Windows Agent to include service logs as well as the standard Windows event logs, and user-selected streaming log files.
Numerous features and visualization changes have been made, such as the ability to GZIP e-mail attachments for e-mail reports, new analytical functions, new abilities to sort and organize data, and multiple new forwarder/data collection features.
Server 5.4.0 also includes improvements to various new CorreLog adapters/functions:
SQL Table Monitoring
SQL File Transfer Queue
File Integrity Monitoring
CorreLog Windows SAP Agent
CorreLog SyslogDefender™
And other programs and adapters now available from the "Home" screen of CorreLog Enterprise Server
CorreLog Enterprise Server 5.4.0 can be installed over any current version 5.x with no special considerations. The installation package for this major release is less than 50 megabytes, and installs in just a few minutes. Customers may email CorreLog for version 5.4.0 and the CorreLog support team will contact you within 24 hours of your inquiry.
CorreLog Agent for IBM z/OS Release 5.4.0 Details
Agent for IBM z/OS Version 5.4.0 incorporates wider interoperability with Windows/Linux/UNIX platforms from expanded Common Event Format (CEF) integration
Agent for IBM z/OS is now Hewlett-Packard ArcSight CEF certified
Enhanced support for Splunk integration
Enhanced LEEF support for IBM QRadar Security Intelligence Platform integration
The install package for CorreLog Agent for IBM z/OS is less than 1 megabyte and systems can be upgraded in just a few hours, depending on the number of LPARs involved. Please email CorreLog for the version 5.4.0 of the Agent for IBM z/OS and the CorreLog support team will contact you within 24 hours of your inquiry.
"We understand that interoperability and functionality are critical in today's heterogeneous, highly complex IT environments," said George Faucher, CorreLog president and CEO. "Both of these upgrades account for greater usability in today's datacenters along with the flexibility to 'talk' to more complementary SIEM systems so our customers can leverage existing IT security investments."
More information on CorreLog products can be found at http://correlog.com/products.html.
About CorreLog:
CorreLog, Inc. is the leading independent software vendor (ISV) for IT security log management and event correlation. CorreLog's flagship product, the CorreLog Enterprise Server, combines log management, Syslog, Syslog-NG, SNMP, auto-learning functions, neural network modeling, proprietary semantic correlation, automated help-desk ticketing and reporting functions into a unique multi-platform security solution. CorreLog Enterprise Server operates across Windows, UNIX, Linux and mainframe platforms, shipping with an out-of-box PCI DSS compliant CorreLog agent for IBM z/OS, the world's most popular mainframe operating system.
CorreLog delivers an essential viewpoint via dashboard console, providing verifiable and actionable information on the activity of users, devices, and applications to proactively meet organizational SLAs and regulatory requirements. Additionally, CorreLog automatically identifies and responds to any suspicious behavior, network attacks, or policy violations by indexing and correlating user activity and event logs, then archives the data in an enterprise server system location. This allows customer organizations to quickly identify then proactively respond to compliance violations, policy breaches, cyber-attacks and insider threats. For auditing and forensics, CorreLog facilitates regulatory requirements set forth by PCI DSS, HIPAA, SOX, FISMA, NERC, NCUA, and many other standards. CorreLog markets its solutions through both direct and indirect partner channels. http://www.correlog.com/