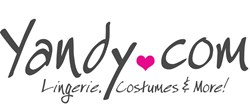 Phoenix, Ariz. (PRWEB) December 09, 2013
Yandy.com, online retailer of women's lingerie, clothing, costumes and more, introduces the Bonitaz Corsets line to the already expansive collection of lingerie available on the site.
While Yandy.com does already offer a wide selection of corsets, by including the small Bonitaz Corsets line the e-commerce site fills a niche that was before unmet. "The Bonitaz Corsets collection is great for our customers looking for a high quality, legitimate corset with structured, figure shaping boning at affordable prices," said Chad Horstman, CEO of Yandy.com. We found that a lot of our customers were requesting corsets of this quality in this price range so incorporating the Bonitaz Corsets line into our selection of lingerie seemed to be a perfect fit," added Horstman.
Yandy.com brought on eight of Bonitaz Corsets' best styles and the selection offers something for everyone. The new corsets include a sweetheart neckline style available in black or hot pink, a halter neckline style, a two-toned strapped style, a reversible style and even a camouflage print style, a popular pattern for Yandy.com shoppers. All of the corsets feature durable material, figure shaping boning and either a steel busk or zip up front closure with an adjustable lace-up back ensuring a perfect fit.
Additionally, while the new corset collection at Yandy.com seems expensive, the prices are actually quite affordable. Ranging from $31.95 to $38.95, these new corsets are a perfect fit for any budget.
Not only is this new collection of women's corsets fashionable and affordable, but Yandy.com also offers customers additional incentives to shop like a free panty with every order, free shipping on orders over $70 as well as same day shipping.
About Yandy.com
E-commerce is on the rise and Yandy.com is one of the largest online retailers of lingerie, sexy Halloween costumes, swimwear and clothing on the web. Founded in 2003, Yandy boasts more than 7,000 products always in stock at easily affordable prices. Yandy ensures that every customer will receive a safe, secure and private online shopping experience and is backed by COMODO online security and is a Google Trusted Store. Yandy is dedicated to customer service and only sells what is in stock which allows for quick, same day shipping. Offering the highest quality products at the most affordable prices in the market, Yandy has become a leader in ecommerce. Yandy works closely with all of the manufacturers they distribute for and hand select all of the items on the Web site to ensure customers have the largest and most diverse collection to choose from. In addition, the customer service team at Yandy is unrivaled. With attentive and helpful operators, should a question or problem arise, the customer service team at Yandy is always willing and able to assist. At Yandy, every customer can Be Sexy.