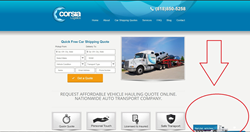 Above and Beyond Customer Service - Now with Live Chat!
Los Angeles, California (PRWEB) September 22, 2014
Corsia Logistics has been expanding, and now the team has grown to serve customers even better with live chat. The company knows how important it is to provide customers with fast and reliable service and the live chat will cater to this need. What separates Corsia Logistics live chat is the fact that the customer service is located within the United States.
"Today, when most big auto transport companies outsource their customer service overseas, we knew it's crucial to locate our service here in the US. Our auto transport specialists work during business hours to cover all time zones and offer expert consultation to our customers," said Vasilka Atanasova VP of Marketing.
The live chat connects the customer directly to Corsia employee to answer all questions and help the customer schedule the service. Corsia specialists respond to questions and help educate the customer on everything. Questions ranging from "How long does it take to transport a car?" to "How much does it cost to ship a car?" and "Can I include personal items in my car?" are responded to by the auto transport specialists at Corsia Logistics live.
Corsia provides personalized attention and fair market rates from and to any point in the US. And now with their live chat the company guarantees even more efficiency and accessibility to its reliable services. Now, customers can reach the team via phone, email, social media, through their car shipping quote form and the live chat.
Some big companies are trying to dictate the car shipping prices, but Corsia Logistics is committed to offering affordable auto transport and personalized attention. The small team at Corsia Logistics is knowledgeable and provides services tailored to their customers' needs.
Corsia Logistics car transport service main advantages:
1) the company offers affordable, manual car shipping quotes
2) they work only with verified, licensed and insured carriers
3) the small team provides personal attention to every customer
Manual quotes means that a company employee process each quote request manually and the quote is based on the agent's professional opinion, it is not automated calculation. The request is taken to the national dispatch board for comparison of current prices and then the agent sends a customized quote.
ABOUT CORSIA LOGISTICS
Corsia Logistics is one of the fastest growing car shipping companies. The company has been slowly expanding to provide great auto transport services nationwide. Corsia offers free vehicle shipping quotes and reliable services to all customers. We have earned the trust of many companies already. We provide transport for standard, sports, custom and classic vehicles. Visit us online at http://www.corsia.us to learn more or call (818) 850-5258.