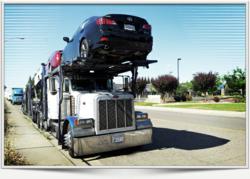 Fast and Fair Auto Transport Quotes with Corsia Logistics!
Los Angeles (PRWEB) July 01, 2013
Corsia Logistics' new websites is very easy to navigate and obtain a car shipping quote. The cost to ship a car is the most important information requested daily by customers and that's why Corsia has included detailed information about the pricing and an easy online quote form. The company has provided details about the major vehicle transport services and the auto transport process. Visitors can learn about the different types of auto transport Corsia offers and easily decide what service to request.
The company offers the most common open auto transport service for all standard types of vehicles. As a part of their specialized services, Corsia also provides enclosed auto transport for owners of luxury, custom, sports and classic vehicles. Moreover, the company can arrange for expedited vehicle delivery for all customers who need express shipping service. These common in the industry types of car shipping services are well described on the website for customers and visitors to read about and understand.
Furthermore, there is a rich, interactive frequently asked questions section containing plenty of additional information and answers to the industry most common car shipping questions. To take it a step further, the company started working hard on developing a robust car shipping tips and news section – the blog section of their website. Corsia asked professionals in the industry to contribute and provide expert advice and interesting news.
Another great addition to the user friendly website is the online contact us section allowing for fast and easy inquiry submission. The Corsia team has worked hard on the design of the company website to make it easy and convenient for customers to request a quote and learn about the auto transport process. Moreover, with the great advance of mobile devices the team made sure the site is mobile responsive to support greater functionality on tablets and smart phones.
ABOUT CORSIA LOGISTICS
Corsia LLC is California based company and for quite some time served only within the state borders. The company has been slowly expanding to provide great auto transport services nationwide. Corsia offers free vehicle shipping quotes and reliable services to all customers. Corsia provides transport for standard vehicles and specializes in sports, custom and classic vehicles shipping. Visit us online at http://www.corsia.us or call (818) 850-5258.