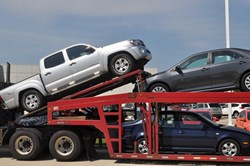 Coast to Coast Shipping. Personal attention. Manual, Fair Car Shipping Rates.
Los Angeles, California (PRWEB) August 21, 2013
Corsia Logistics has been slowly expanding and now has grown to serve more cross country vehicle transportation routes. The team provides personalized attention and fair market rates for all of their customers. Many big companies fail to provide customers with the personal attention they seek because they have automated the whole process. The small team at Corsia is very knowledgeable and eager to provide services tailored to their customers' needs especially when it comes to shipping a vehicle across the country.
"The team here knows how it feels to hand your car keys to a person you don't know. We take the time to explain the process. Personal attention is always the priority, especially when it comes to shipping a car across the country," said Mr. Sotirov.
Corsia Logistics has three main advantages now to serve cross country vehicle transport:
1.) manual car shipping quotes
2.) company works only with verified licensed and insured carriers
3.) the agents provide personalized attention to every customer
By manual quotes, the company means that each quote request is taken to the national dispatch board for comparison with the current car shipping costs and then an agent sends customized quote. Every customer moving a car across the country receives manual car shipping rates. The car transport carrier the company hires understand the value of the cargo they haul.
Corsia agents emphasize personal attention making sure customers feel as they are talking to a friend they can trust.
The primary area of service is Corsia Logistics' home state California. Car shipping companies in California are abundant but only a handful of them provide the care customers need when shipping a car to California and Corsia is proud to be one of them. Now, with this expansion, Corsia Logistics will be able to cover major cross country routes such as Los Angeles to New York, Miami and Boston including many smaller towns nearby. Car shipping to California could be expensive and Corsia team works hard to provide affordable coast to coast service every day.
"We are proud to offer manual, fair market prices to all of our customers across the country," said Sotirov.
Corsia Logistics' services include open and enclosed auto transport service for all of their customers. The company also provides classic car shipping quotes and service for owners of vintage, custom and classic vehicles. All types of car shipping services are described on the website for customers to read and understand. Customers can always contact Corsia and ask additional questions about their services.
ABOUT CORSIA LOGISTICS
Corsia Logistics is California-based company and in the beginning, served only within the state borders. The company has been slowly expanding to provide great auto transport services nationwide. Corsia offers free vehicle shipping quotes and reliable services to all customers. We have earned the trust of many companies already. We provide transport for standard vehicles and specialize in sports, custom and classic vehicles shipping. Visit us online at http://www.corsia.us or call our main line at (818) 850-5258.