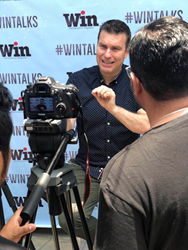 It's hard to beat a person who never gives up- Babe Ruth
LAS VEGAS (PRWEB) May 05, 2019
This weekend, Central America opened its arms and welcomed innovators from around the world. Even with its current, illegal status surrounding cannabis, perhaps they are changing their tune. Notably, Cort Smith, CEO and Founder of DaVinci Vaporizers is a keynote speaker. Could this mean that Guatemala is looking to normalize cannabis?
Having been hand picked to attend, Smith explains that the Volcano Summit is a global initiative, which acts as a platform to exchange future visions and experiences. Driven by the mission to incorporate Latin America to the global network of innovation, science and culture by connecting business, entrepreneurs, creative leaders and investors for crossover conversation and inspiration. Speakers across tech, medical and cannabis are in attendance.
Cort Smith reaches deep into 30 years of product development history to share best practices with the Central American country, including those surrounding cannabis. Driven with a passion for creating products that enhance the human experience and spread world peace through global commerce, Smith encourages Guatemalans to be 'First Movers' and 'Risk Seekers' to win at innovation. DaVinci did this through the creation of their line of premium vaporizers back in 2011.
When asked what industries will pop next, Smith encourages to stay close to the things they love in order to be best at them. Given Guatemala's location, being centrally located between North and South America, which are both actively pursuing cannabis as a booming industry, Guatemala may be next on the move, especially given their presidents positive stance on the subject.
Cort Smith, innovator and global ambassador of world peace brings cannabis knowledge to Guatemala in a way that may not have been formerly presented- in a message that cannabis and the technology that drives it, changes the conversation around it.