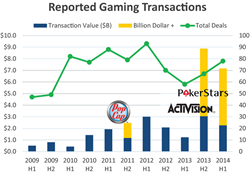 Total volume, total value and average deal value have all hit new benchmarks.
Seattle, WA (PRWEB) August 04, 2014
M&A in the video games ecosystem is reaching new heights, according to an analysis released today by Corum Group, the leading M&A advisory firm for technology and digital media companies.
"Total volume, total value and average deal value have all hit new benchmarks," explained Corum Senior Analyst Alina Soltys. "Megadeals like Activision and Pokerstars have helped set the stage, but even without the multibillion-dollar transactions, game deal value has had a record 12 months."
Deal value within the gaming ecosystem, excluding transactions in excess of $1B, reached $3B in the second half of 2013 and $2.3B in the first half of 2014. The first half of 2014 also saw deal volume reach the highest in two years, with 78 transactions made public.
The average deal size has also increased significantly, doubling from 2009, and up 57% from the first half of 2013.
Soltys will provide more detailed analysis on M&A within the gaming industry during the Tech M&A Monthly webcast on August 14, and will present at GamesBeat 2014 in San Francisco on September 15. The full report can be accessed at http://www.corumgroup.com/gaming.
Analyzed companies spanned both game development studios and other firms within the gaming ecosystem, including infrastructure, advertising analytics and other key components supporting the industry. Deals analyzed included both majority and minority investments, and the tabulation of deal value only included those deals with values announced or otherwise made available.
About Corum
Corum Group is the global leader in merger and acquisition services, specializing in serving sellers of technology and digital companies worldwide. With offices globally, Corum has completed over US $7 billion in software M&A transactions over the last 30 years, spanning six continents. Corum also educates the industry with its popular conferences and publishes the most widely distributed software M&A research. Corum's M&A advisors are highly experienced former tech CEOs, who are supported by the industry's leading researchers, writers and valuators. Corum also does much to educate the industry with its conferences and webinars and the industry's most widely distributed software and IT M&A research.