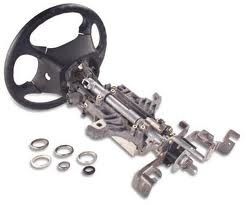 A unique way of searching the company inventory is now provided when users visit the SteeringColumnsforSale.com company website.
Rochester, New York (PRWEB) August 02, 2013
The Corvette produced by General Motors for its Chevrolet series of performance vehicles has remained in production since the 1950s. Replacement components for this vehicle series can be one challenge for vehicle owners to find in good condition. The SteeringColumnsforSale.com company has now added inside of its GM inventory the Corvette steering column replacements at http://www.steeringcolumnsforsale.com/corvette-steering-column.
A special price discount is now applied to this inventory partly due to the different types that are now offered. Some companies retail brand new units that are sourced from dealerships.
The Corvette steering wheel columns that are now supplied are offered in aftermarket, rebuilt and in used condition. These varieties provide different price levels for each consumer searching for the best replacement options.
"Our inventory has expanded in 2013," said a source from the SteeringColumnsforSale.com company. The changes that have taken place for each automaker brand in stock has been based on the approximate demand by consumers.
The Corvette assemblies that can be reviewed online are provided in the popular styles used by General Motors for each year of production. Both vintage and newer Corvette types are included in the current inventory offered to buyers. A unique way of searching the company inventory is now provided when users visit the SteeringColumnsforSale.com company website.
The quotation tools now supplied are accurate ways to discover pricing and freight information before an actual order is placed. Company partners currently providing the actual fulfillment for each column supply pricing data and limited warranty specs that are searchable by consumers. This helps to measure the accuracy of all content researched by buyers.
About SteeringColumnsforSale.com
The SteeringColumnsforSale.com company provides consumers with immediate access to replacement assemblies that are designed to fit into domestic and foreign vehicles. This company structures its prices based on consumer demand and cash discounts that are applied from distribution partners. The SteeringColumnsforSale.com company publishes content to its accessible database online that provides pricing and warranty details for each unit that is distributed to buyers. New details pages for steering wheel assemblies are added to the company site daily. Freight incentives for the cost shipping are currently in effect for each assembly ordered.