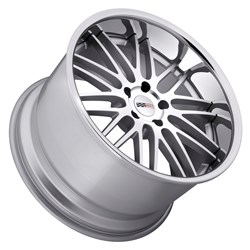 Manufacturing wheels for Corvette is a challenge the Cray engineering team has mastered.
Huntington Beach, CA (PRWEB) October 31, 2013
Cray Custom Corvette Wheels, in conjunction with its parent, TSW Alloy Wheels, announced today that it will be introducing a new wheel in the TSW booth at the SEMA automotive specialty products trade show at the Las Vegas Convention Center in Las Vegas, Nevada on November 5 through 8, 2013. The TSW booth, #43131, is in the SEMA wheels pavilion.
Cray Wheels designs and manufactures high performance custom Corvette wheels exclusively for the Corvette owner and with the introduction of the Brickyard split five spoke wheel, increases its product lineup to four wheels.
"Manufacturing wheels for Corvette is a challenge the Cray engineering team has mastered," commented Terence Scheckter, president of Cray Wheels. Corvette owners are renown for their drive to personalize their vehicles, so that no two 'Vettes, it seems, could possibly be identical. Indeed, Chevrolet fuels this pursuit with a stupefying number of options and dealer-installed accessories.
Cray Corvette Aftermarket Wheels feeds this desire with several distinctive variants of their Scorpion, Manta and Hawk and soon to be Brickyard Corvette wheels.
Cray wheels are designed specifically and exclusively for the Corvette and take their inspiration from the Corvette's unique, sleek and aerodynamic pose. Thus, either Scorpion or Manta models in gloss black, in chrome or in hyper silver with a machined-cut lip, or the new Hawk model in matte black, gloss black with a chrome stainless lip or silver with a machine face and chrome stainless lip are designed to complement the iconic, purely American super car.
Cray Corvette aftermarket wheels offers the world's widest range of one-piece, staggered Corvette specific wheel applications. Cray Aftermarket Corvette Wheels are precision engineered in every detail. Cray engineers take into account the staggered fitment common to most Corvettes. A staggered fitment means that the rear wheels and tires are slightly wider than the front, providing better traction and a more aggressive stance for the Corvette rims . Additionally, Cray engineers factor in the related concepts of wheel offset and backspace. Wheel offset means the wheel centerline is offset away from the axle, providing a wider stance. Backspace measures how far the wheel intrudes into the wheel well towards the axle, and is important to ensure that there is no interference with suspension trailing arms or other mechanical systems.
Potential customers can visit the "virtual garage" at http://www.craycorvettewheels.com/iconfigurators/ to visualize how the each Cray wheel will look on their Corvette. They can select the model, trim and even the color of their vehicle, then "try on" any of the Cray Corvette rims.
TSW wheels are born of a rich racing heritage. Founded by a former Formula One racing driver, TSW has been involved in motor racing around the globe for over 30 years.
For dealers in the U.S. or Canada, call 1 800-479-9723 or visit Cray Wheels on the web at on the web at http://www.craycorvettewheels.com/. Cray Wheel dealers are located throughout North America and worldwide, including Discount Tire Direct on the web at http://www.discounttiredirect.com/.