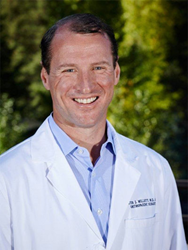 Vail, Colorado (PRWEB) September 25, 2014
Colorado shoulder specialist Peter Millett, M.D., M.Sc. has recently launched an updated version of his website DRMILLETT.COM developed by eMedical Media. This website has been redesigned to help patients readily find current information on a variety of orthopedic conditions and to showcase success stories from other patients. Patients travel from around the world to see Dr. Millett about complicated injuries and disorders that other orthopedic surgeons may be reluctant to treat. The goal of the website is to educate patients on leading-edge research and treatment options so that they can advocate for their own best care.
Dr. Millett and his team are dedicated to providing excellent care to all patients from active youth, pro athletes and weekend warriors, to active retirees. The patient focused website connects individual testimonials to conditions treated by Dr. Millett. Patients searching online for insight and practical knowledge on problems associated with the shoulder, elbow and knee and sports injuries in general will find information on common conditions such as:
· Shoulder instability
· Rotator cuff injuries
· Biceps disorders
· ACL tears
· Meniscus injuries
· Articular cartilage damage
· Arthritis
· Joint replacement
· Clavicle fractures
· Shoulder fractures
And less common injuries including:
· AC joint injuries
· Snapping scapula syndrome
· Sternoclavicular joint injuries
· Arthrofibrosis of the knee
The discussion includes non-surgical as well as innovative surgical options to help patients make decisions based on the level of activity they hope to resume. For patients seeking a diagnosis or second opinion, Dr. Millett offers film reviews and consultations.
As the Director of Shoulder Surgery at The Steadman Clinic in Vail, Colorado, Dr. Millett is dedicated to keeping people active by providing the most progressive treatment for sports injuries and orthopedic disorders. He is a board member and active researcher at the Steadman Philippon Research Institute (SPRI) and remains a leader in innovative care of sports related injuries. He has authored over 160 peer-reviewed scientific articles, numerous book chapters, and 2 books on orthopedics, sports medicine, and shoulder surgery. His academic work is recognized internationally and he is frequently asked to train other orthopedic surgeons on procedures such as arthroscopic double-row rotator cuff repair, Latarjet procedures, and the procedure he pioneered, Comprehensive Arthroscopic Management (CAM) procedure to delay shoulder replacement.
About Dr. Millett
Colorado shoulder specialist Dr. Peter Millett is a partner at the Steadman Clinic in Vail, Colorado. He specializes in disorders of the shoulder, elbow, and knee as well as all other sports related injuries. Dr. Millett's research focus includes shoulder arthritis, shoulder replacement, and rotator cuff repair using advanced shoulder arthroscopy and arthroscopic stabilization techniques. Dr. Millett is recognized as an elite physician in the field of sports medicine. He has been ranked in the top 1% of his specialty by US News & World Reports.