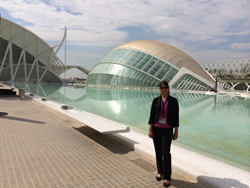 San Antonio, TX (PRWEB) June 27, 2014
Encore Dental Care is always looking for new ways to provide their patients with the best care. By staying up to date on the latest procedures and techniques, they can better serve their patients. This month, Dr. Lilia Cyr is traveling to Valencia, Spain for an international implant congress.
The 5th International CAMLOG Congress runs from June 25-28 and will feature a variety of internationally renowned speakers. The conference will discuss and present the latest scientific achievements and practical progress in implant dentistry. More information about the congress can be found at https://www.camlogcongress.com.
Dr. Cyr is looking forward to attending the conference and aims to gain more education to better serve her patients. She has also been taking classes in San Antonio to stay up to date on the most modern and best ways to help her patients. This includes everything from implants to esthetics of implants and bone grafting techniques to preparing areas of the mouth where there has been bone loss for future implants.
For more information about Encore Dental Care and their continued efforts toward education, visit their website at http://www.encoredentalsatx.com/. Schedule an appointment online or call 210-551-0553.
Dr. Lilia Martinez Cyr, of Encore Dental Care is a 12th generation Texan and her hometown is McAllen, TX. She graduated from the Texas Academy of Mathematics and Science at the University of North TX (Denton). She received her B.S. in Biology (Magna Cum Laude) from UT San Antonio and received her DDS from the UT Health Science Center in San Antonio with Distinctive Honors in Research.
Dr. Cyr was selected by the American Association of Oral Biologists to receive the Research in Oral Biology Award (2010) for her significant contribution to research in tooth development and the American Academy of Oral Medicine Award for 2010. She is a member of the ADA, TDA, San Antonio District Dental Society, the Academy of General Dentistry, the American Orthodontic Society, and the Academy of GP Orthodontics.