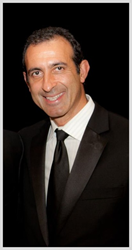 Northridge, CA (PRWEB) December 12, 2014
Northridge dentist, Dr. Farshid Ariz, is pleased to now announce special pricing on dental implants. Dental implants are a natural-looking alternative to dental bridges and dentures. They work much like natural teeth and are firmly secured in the jawbone. Once an implant has fused with the bone, it can last a lifetime. Patients who are candidates for implants include those who have good dental and general health and who are missing one or more teeth.
This special promotion includes the complete dental implant, including dental crown, for just $3,800. Eligible patients will receive:

A consultation, during which they can learn more about the procedure and determine their candidacy
The implant itself, which is screw-like device that is made of biocompatible materials that can become incorporated into the bone
The abutment, which secures the restoration to the implant
The porcelain crown, which replaces the lost tooth
Patients can take advantage of this promotion until the end of December. Dental insurance may cover some or all of the costs. Drs. Ariz and Arami are committed to providing their patients with the best dental care possible. A top Northridge periodontist, Dr. Ariz offers aesthetic implant surgery, cosmetic periodontal treatments and full mouth reconstructions along with general dental treatments such as dental fillings, inlays and onlays, root canal treatments, oral surgery, sleep apnea treatments and Invisalign. Dr. Arami is a noted cosmetic dentist who offers porcelain veneers, teeth whitening, porcelain crowns and smile makeovers.
About Northridge Dental Group
Dr. Arami graduated from the UCLA School of Dentistry. During his general practice residency, Dr. Arami focused on treating medically compromised and phobic patients, which has enabled him to provide his patients with the latest and most effective sedation options. Today, Dr. Arami, Northridge teeth whitening expert, is a member of the California Dental Association and the American Dental Association.
Dr. Ariz is a popular Northridge dentist and a graduate of Boston University's School of Dentistry. He continued his studies and earned his Certification in Advanced Graduate Studies in Periodontics. Today, he is a member of the American Academy of Osseointegration, the American Academy of Periodontology and the Medical Review Institute of America, Inc. He is also an Assistant Professor to Advanced Periodontics at the University Of Southern California School Of Dentistry.