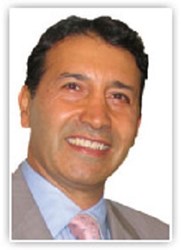 Culver City, CA (PRWEB) January 03, 2014
Culver City dentist, Dr. Abbas Eftekhari, is now offering a special New Year's offer for new patients. This special includes a dental exam, oral cancer screening and dental X-rays at no cost. Dental X-rays can identify issues below the gumline or between teeth while a visual exam can identify oral health conditions at their earliest stages. New patients can learn more about their options and their dental health and determine the most appropriate treatments for their needs.
About Dr. Abbas Eftekhari, Cosmetic Dentist Culver City
Dr. Abbas Eftekhari is a top Culver City cosmetic dentist with a reputation for friendly, compassionate care. He earned his Doctorate of Dental Surgery from Marquette University in Milwaukee and has been practicing in Culver City for more than a decade. He is currently a member of the American Dental Association and has been recognized for his dedication and outreach activities with a "You Make the Difference" certificate from the Los Angeles Dental Society, the USC School of Dentistry, the Latin American Dental Association, the Iranian Dental Association and the Los Angeles Unified School District. Visit http://www.cosmeticdentistculvercity.net for more information.
The American Dental Association recommends that most patients visit the dentist twice a year. Routine dental checkups and professional cleanings offer patients a simple way to monitor their dental health and reduce their risk of certain dental diseases. Some patients, including smokers, pregnant women and people with systemic illnesses, may need more frequent checkups. This complimentary offer allows patients to get their teeth examined without any risk and can help them locate a dental home for all their dental health needs.
Dr. Eftekhari, Culver City dentist, offers extensive cosmetic and general dentistry treatment options with a friendly, compassionate touch. Tooth-colored fillings are an aesthetic alternative to traditional amalgam fillings and offer patients an attractive, subtle solution to cavities. Teeth whitening is one of the most popular treatment options that can be used to whiten teeth that have become stained or darkened over time. Veneers are a versatile treatment that can whitening, smooth and perfect teeth. Treatments can be customized to each patient's needs for the best result. Smile makeovers can combine several treatments to completely transform smiles or address more severe cosmetic issues.