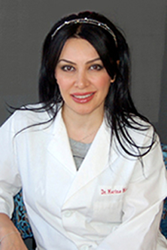 Glendale, CA (PRWEB) October 14, 2014
Glendale cosmetic dentist, Dr. Marine Martirosyan, is now offering a special promotion on teeth whitening. Teeth whitening is the most popular cosmetic treatment in dentistry. Although many options are available over the counter in drugstores, these can offer imprecise results and may be more likely to irritate the delicate tissues inside the mouth. Professional teeth whitening is an excellent alternative that is performed under professional supervision so that patients can be confident in both their safety and their results.
According to Dr. Martirosyan's team, "A whiter and brighter smile can be the answer to feeling great about yourself." In-office teeth whitening can leave smiles whiter than ever after a single appointment. This special reduces the price significantly, and for a limited time, a one-hour in-office laser teeth whitening costs just $300. This procedure can lighten teeth up to eight shades without irritation or sensitivity.
In-office laser Zoom whitening can be a great option for patients with:

Stains from coffee, tea, or wine
Stains from chewing tobacco or smoking
Age-related stains
Healthy teeth and gums
A desire for a brighter, more attractive smile
Glendale cosmetic dentistry expert, Dr. Martirosyan can complete the procedure in just one hour-long appointment. The whitening solution is applied directly in her office, and then it is activated with a special laser. This two-step process speeds and intensifies the whitening action, and the results last. In fact, teeth can be permanently whiter if patients continue to maintain good dental hygiene and touch up your teeth as needed to keep new stains at bay. Other treatments are available for patients. "We are committed and motivated to offer you the best technologies available for all our dental procedures," according to the team, and available treatments range from porcelain veneers to smile makeovers.
About Dr. Marine Martirosyan, Expert in Teeth Whitening Glendale
Dr. Marine Martirosyan is a top Glendale dentist. After earning her degree from the University of Southern California, Dr. Martirosyan continued her studies at the prestigious Las Vegas Institute in order to provide her patients with the best options in dental care. A former clinical faculty member at USC, Dr. Martirosyan has unparalleled qualifications. Today, she is a member of the American Dental Association, the California Dental Association, the American Academy of Cosmetic Dentistry, the American Academy of Laser Dentistry, and the Academy of Dental Sleep Medicine.