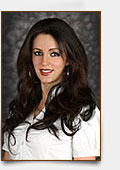 Hollywood, CA (PRWEB) June 25, 2014
Hollywood dentist, Dr. Poneh Ghasri, today announces that she is offering a summer teeth whitening special. During this promotion, patients can visit her office for a complimentary teeth whitening session worth $400. The special expires June 30, 2014, giving patients plenty of time to get their teeth sparkling in time for summer fun. Teeth whitening offers faster, more dramatic results than what patients can get from over-the-counter whitening products, such as gum, strips or toothpaste. Considering the major part that smiles play in overall appearance, this procedure is one of the best steps patients can take towards enhancing their social success this season.
About Dr. Poneh Ghasri, Expert in Teeth Whitening Hollywood
Dr. Poneh Ghasri attended UCLA for both her undergraduate degree in neuroscience and her doctorate in dental surgery. She offers personalized treatments in preventive, restorative and cosmetic care, including dental implants, dentures, Invisalign, tooth-colored fillings, periodontics and endodontics. Dedicated to lifelong learning, Dr. Ghasri, Hollywood Lumineers expert, continues to attend courses in a wide range of subjects and enjoys a diverse selection of hobbies. The extensive experience Dr. Ghasri has in cosmetic dentistry enables her to help patients look their best through the right treatments for them.
Professional teeth whitening is safer and more effective than store-bought whitening options. In addition to using stronger bleaching components than those included with OTC kits, professional whitening at the office of Dr. Ghasri, Hollywood veneers expert, includes expert performance and monitoring for safety. Dr. Ghasri uses barriers to protect the teeth of patients during the procedure, reducing risks of damage to delicate oral tissues. Depending on the whitening procedure chosen, fast activation may be achieved with chemicals or a special light.
Teeth may become discolored due to a variety of lifestyle factors. Heavily pigmented foods and drinks, including red wine, coffee and berries, can stain teeth with regular consumption. Tobacco use, including cigarettes, cigars and smokeless tobacco, can also cause stains over time. All of these factors result in superficial stains that are easily addressed through professional teeth whitening. When stains are the result of internal tooth decay, trauma or overexposure to fluoride or tetracycline, Dr. Ghasri may recommend other treatments, such as veneers or crowns, which work by concealing discolored teeth.