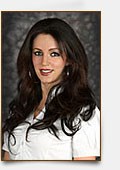 Los Angeles, CA (PRWEB) August 09, 2013
Zoom whitening is one of the most powerful teeth whitening treatments available today. This in-office whitening treatment can be customized to meet each patient's whitening needs and to lighten teeth as much as eight shades in just about an hour. Dr. Poneh Ghasri, skilled Los Angeles Zoom whitening dentist, is now offering a Zoom whitening special that can make this fast, effective treatment more affordable.
Coffee, tea, wine and nicotine often leave unattractive stains on teeth. These stains can detract from a person's overall appearance and even make him or her look older. Zoom eliminates these and other common stains and restores teeth to a whiter, brighter appearance. Los Angeles teeth whitening expert, Dr. Poneh Ghasri, applies Zoom to patients' teeth in her office and activates the whitening gel using a special light. The solution penetrates deep inside the teeth to break up stains gently but efficiently. Zoom is typically $650, but Dr. Ghasri has reduced the price to just $185. Some restrictions may apply.
Dr. Ghasri, Los Angeles dentist, also offers other whitening treatments as well as porcelain veneers, Lumineers and Invisalign. She works closely with her patients to create a customized treatment plan that helps them achieve the smile of their dreams. Orthodontics can correct misalignments and maloccluded bites while veneers can be used to correct or enhance the appearance of stained, gapped, chipped or worn teeth. Treatments can be used individually or combined into a smile makeover that addresses multiple aspects of a smile.
About Dr. Ghasri, Expert in Porcelain Veneers Los Angeles
A graduate of UCLA with a degree in neuroscience as well as her DDS, Dr. Poneh Ghasri has continued her education in the fields of restorative and cosmetic dentistry. She is committed to providing full-service cosmetic dentistry using the latest, most-effective and safest techniques available. She is considered a premier Los Angeles Lumineers dentist and can perform even complex smile makeovers and full-mouth reconstructions. She has been recognized as a "Top Lumineers Dentist" and an Invisalign "Preferred Provider." She is dedicated in various outreach programs that allow her to improve dental health in the Los Angeles community.
Press Release Submitted by avitalweb.com
Kevin Neman
(818) 205-9300
Website: http://www.thebestlosangelesdentist.com