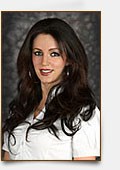 North Hollywood, CA (PRWEB) August 16, 2013
Stained teeth are common thanks to the popularity of energy drinks, colas, coffee and tea. Unfortunately, they can often detract and even age a person's appearance. Dr. Poneh Ghasri, North Hollywood cosmetic dentist, now offers various teeth whitening options.
Take-home whitening treatments are whitening procedures that can be done in the privacy of the patient's home. Dr. Ghasri, North Hollywood dentist, begins with a dental exam to ensure that teeth and gums are healthy. A mouth tray is then customized to fit the teeth precisely, which ensures the teeth maintain maximum contact with the whitening solution. The prescription-strength teeth whitening gel can noticeably brighten teeth in just a few days.
Dr. Ghasri, North Hollywood dentist, also offers in-office whitening. In-office whitening is faster than other whitening methods, and teeth can be from 6 to 10 shades brighter after a single treatment. The whitening solution is painted directly onto teeth in the dental office, and a special light is used to activate and speed the whitening gel. The procedure takes about an hour and may be completed with an application of fluoride, which can reduce the risk of sensitivity.
Some patients may not be candidates for traditional teeth whitening procedures. Those who have discolorations that are caused by dental trauma, root canal procedures, antibiotic use or other intrinsic stains may benefit more from porcelain veneers. Veneers are tooth-shaped shells that cover the fronts of teeth for a bright, luminous appearance.
Professional teeth whitening can brighten a smile quickly and effectively. It can be used alone or combined with other procedures, such as Invisalign, for a smile makeover.
About Dr. Ghasri, Dentist North Hollywood
Dr. Poneh Ghasri is a skilled North Hollywood dentist who is committed to providing the safest, most effective dental services for her patients. Raised in Los Angeles, Dr. Ghasri earned her bachelor's degree with honors in neuroscience from UCLA. She completed her DDS at UCLA's School of Dentistry, and she has been working as a cosmetic dentist for more than a decade. In that time, she has continued her education in the field of cosmetic dentistry and implant reconstruction. She has earned recognition as a "Top Lumineers Dentist" and an "Invisalign Preferred Provider."
Website: http://www.nohodentalgroup.com
Press Release Submitted by AvitalWeb.com
Kevin Neman
(818) 205-9300