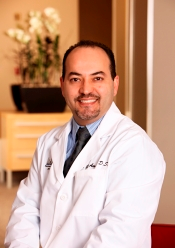 San Francisco, CA (PRWEB) December 07, 2015
San Francisco dental crowns dentist, Dr. Ben Amini, is now offering same day dental restorations using CAD/CAM technology. CEREC, the 3D technology behind single-visit crowns, veneers, inlays and onlays, lets Dr. Amini and Associate dentists at CitiDent restore appearance and oral functionality quickly and conveniently for patients. In contrast to traditional restorations, that usually take two weeks to fabricate by a laboratory technician, CEREC crowns and other restorations are designed by CitiDent dentists. This technology allows patients to relax in the waiting room in between preparation and placement instead of waiting at home for days or weeks between appointments while wearing a temporary restoration that is prone to coming off and create discomfort.
Furthermore, the benefits of CEREC are not restricted to its great design and efficient delivery. CAD/CAM dental technology uses computer-aided drafting and machining equipment to make precise restorations inside the dental office. In fact, patients may spend just one hour for their entire tooth replacement this way. Instead of requiring a series of X-rays, photos and bite impressions, single-visit restorations use images from a special CEREC scanning device that takes images of the teeth from several angles. Dr. Amini and associate dentists at CitiDent then transfer these images to a computer and refine the design according to treatment goals. Finally, the restorations are produced by a 3D manufacturing unit for immediate placement afterwards.
About Dr. Ben Amini, Cosmetic Dentist San Francisco
Dr. Ben Amini, San Francisco dental veneers expert, is an active member of CerecDoctors.com, the leading dental CAD/CAM organization in the world, attended San Diego State University, where he earned his undergraduate degree, before graduating with his Doctorate of Dental Surgery at the University of California, San Francisco. In addition to being a reputable member of several organizations in his field, Dr. Amini teaches at the UCSF School of Dentistry as an assistant clinical professor. Patients who visit CitiDent located in San Francisco Financial District, have access to a broad range of dental services, including restorative, endodontic, implant, and periodontic care, in addition to cosmetic treatments.