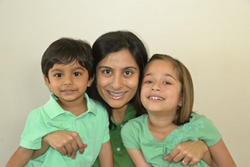 Thousand Oaks, CA (PRWEB) April 30, 2014
Thousand Oaks pediatric dentist, Dr. Shukan Kanuga, and Sweet Tooth Dentist Center are now offering pediatric dental services for their young patients. Pediatric dental care is one of the best ways to keep young teeth healthy. The American Dental Association recommends that most children visit their dentist by the time their first tooth erupts, which can occur between 6 and 12 months of age.
About Dr. Shukan Kanuga, Pedodontist Thousand Oaks
Thousand Oaks childrens dentist, Dr. Shukan Kanuga, began her career in India before moving to the United States in 2002. She received her DDS at UCLA and completed her general practice residency in Downey, Calif. Her pediatric dental training was completed with an MSD from the University of Washington, Seattle. Today, Dr. Kanuga specializes in treating children from infancy to 18 years old, and she enjoys working with both typically developing children and children who have special needs or developmental concerns. Dr. Kanuga, Thousand Oaks dentist, is a member of the AAPD, the ADA, the CDA and is on the peer review committee of the CSPD. She has been named as an Evidence Based Dentistry Champion and is an active volunteer providing talks, education and screening to organizations and under-served children.
Thousand Oaks dentist, Dr. Shukan Kanuga, focuses on prevention and teaching kids the good dental habits they need to enjoy a lifetime of healthy smiles. Primary teeth, or baby teeth, play a major role in the development of a smile. When baby teeth are diseased or decayed, children can experience difficulty speaking, may experience oral infections or pain, may miss school days and may experience problems with their secondary or permanent teeth.
Good brushing and flossing habits form the foundation of good dental habits but should be accompanied by other healthy lifestyle habits, such as a healthy diet and regular visits with a pediatric dentist, such as our Thousand Oaks dentist Dr. Shukan Kanuga. When dental problems are caught early, they are often easily and affordably treated. Dr. Kanuga can also recommend preventative strategies to help reduce the risk of decay, infection and malocclusions or misalignments.
Dr. Kanuga also offers fluoride treatments, dental sealant applications, dental fillings, crowns and other kid-friendly treatments and services that protect young smiles. Parents are encouraged to take an active role in the dental health of their child and are provided with information about treatment options and prevention strategies.