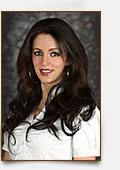 West Hollywood, CA (PRWEB) December 24, 2014
West Hollywood teeth whitening dentist, Dr. Poneh Ghasri, is now offering a holiday whitening special to patients who want to enhance their smile this season. The special price of teeth whitening is $89, giving patients considerable savings off the regular price of $250. Teeth whitening is a fast, non-invasive way to improve appearance. Compared to over-the-counter whitening products, professional teeth whitening is faster, more effective, and longer lasting thanks to stronger bleaching agents and professional supervision. Patients whose lifestyles cause tooth discoloration may benefit from regular teeth whitening treatments, and this special holiday price creates an ideal opportunity to get started in time for the New Year.
Professional teeth whitening is superior to over-the-counter teeth whitening kits in several ways. Before beginning the whitening procedure, Dr. Ghasri examines the teeth and plans treatment accordingly. When additional whitening is desired, patients can visit Dr. Ghasri again for repeated whitening treatments. Just a single appointment is necessary for in-office whitening in contrast to the weeks or months required by over-the-counter teeth whiteners. If discoloration is found to be caused by internal decay or antibiotics, teeth whitening will be ineffective. In these cases, Dr. Ghasri can recommend alternative cosmetic treatments that can conceal the issue.
West Hollywood dentist, Dr. Poneh Ghasri, offers several cosmetic treatments, including options to correct bite irregularities and procedures to permanently conceal flaws of structure or color. Veneers, Lumineers, and dental bonding can be used to hide cracks, chips, and internal stains as well as to change the shape or spacing of teeth. Snap-On Smile is available for patients who want a removable way to hide dental imperfections, and smile makeover treatments can be performed to correct multiple cosmetic issues in a personalized and comprehensive way.
About Dr. Poneh Ghasri, Expert in Dentist West Hollywood
A neuroscience graduate from UCLA, West Hollywood dentist, Dr. Poneh Ghasri, earned her Doctorate of Dental Surgery from the same school. Dr. Ghasri is qualified to perform several cosmetic treatments as well as a variety of restorative and reconstructive procedures. A passionate lifelong learner, Dr. Ghasri enjoys continuing education, several hobbies, and time spent with friends and family.