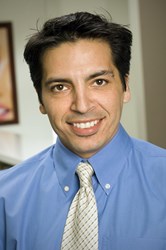 Woodland Hills, CA (PRWEB) August 16, 2013
Dr. Bobby Irani, Woodland Hills dentist, is now offering a special promotion on Zoom whitening. For a limited time, patients can get a professional Zoom whitening treatment for just $99, a savings of hundreds of dollars over the full price.
The Zoom whitening method was developed by Philips, one of the most trusted names in dental technologies. The procedure relies on a powerful peroxide gel, which Dr. Irani, Woodland Hills dentist, applies over the teeth. A special LED light activates the gel, allowing it to penetrate tooth enamel and eliminate years of stains and discolorations.
Philips Zoom whitening is highly effective. In just one appointment with the Dr. Irani, Woodland Hills teeth whitening expert, patients can have teeth that are up to eight shades whiter. The potent peroxide gel lifts away years of stains in just three short 15 minute sessions that can be completed in just one office visit.
The Zoom whitening procedure is considered to be one of the safest in-office whitening treatments in the industry. Many professional whitening procedures irritate the dentin, or layer of tooth under the dental enamel. This irritation can make teeth sensitive to hot or cold foods and beverages, and it may make already sensitive teeth unbearable for the patient. The Zoom procedure uses special technologies to reduce sensitivity, making it appropriate even for most patients with sensitive teeth.
Many patients also prefer the Zoom whitening procedure because it is convenient. There are no messy trays full of gel or strips to place, and the treatment can be completed in under one hour, versus the days or weeks that over-the-counter whitening treatments typically require.
Call Mulholland Dental Care, Woodland Hills Dental Office, to schedule an appointment for Zoom whitening. Mention the special offer at the time of the call to ensure that the special pricing is applied. Dr. Irani, Woodland Hills Invisalign provider, will help determine if the Zoom whitening method is right for the patients.
Website: http://www.bestdentistwoodlandhills.com
Press Release Submitted by AvitalWeb.com
Kevin Neman
(818) 205-9300