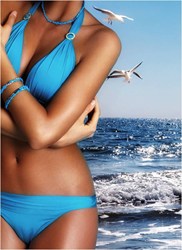 With Summer coming to an end there is still time to get that "bikini body" that every woman desires.
Nashville, Tennessee (PRWEB) August 15, 2013
NuBody Concepts a plastic and cosmetic surgery center in Nashville, Tennessee announces special discounts for customers who book body enhancement procedures in August.
"With Summer coming to an end there is still time to get that "bikini body" that every woman desires. We are offering several attractive discounts for a variety of our cosmetic procedures including WaveSculpt, AquaLipo Liposuction, Tattoo Removal, DOT Laser Skin Resurfacing, Botox Treatments, NeoGraft No Scar Hair Restoration and Juvaderm Treatments. With such attractive offers on our body sculpting procedures now is the time to take advantage of these offers" says Dr. Trey Emerson, plastic surgeon and cosmetic doctor at NuBody Concepts.
Emerson adds "Our August specials include some of the most popular cosmetic procedures. Our cosmetic surgeons are extremely skilled and our procedures are proven time and time again to produce long lasting results. The benefits to body enhancements are endless. We find most patients have a positive change in their self image and are happier in their personal life and are more successful in their career. Studies have shown when a person is satisfied with the way they look and feel there is a direct correlation to their overall image. Patients who undergo cosmetic surgery or seek body enhancement treatments tend to have more successful personal relationships with their spouse or significant other."
NuBody Concepts of Nashville is currently offering several specials to enhance and improve arms, legs, buttocks, breasts, stomach and the face. When booking a cosmetic procedure in August patients can save big.
Some of their August specials include:
WaveSculpt – buy 6 sessions and get 2 free sessions (a $750.00 value)
AquaLipo Liposuction – buy 2 areas & get 1 free including combo treatment with Smart Lipo Skin Tightening (a $1,900.00 value)
Tattoo Removal - $25.00 off per treatment
NeoGraft no scar hair restoration procedure - $200.00 off
Visit NuBody Concepts.com to see all of their August cosmetic procedure specials.
NuBody Concepts is based in Nashville, Tennessee and offers a state- of-the-art plastic and cosmetic surgery center. Patients can have their procedures done right on site as opposed to a formal hospital setting. There is a comfortable waiting area for family and friends of patients coming in for their cosmetic procedure and plastic surgery.
Men and women throughout Tennessee including local celebrities have relied on NuBody Concepts to enhance their body, restore their youthful appearance and aid with aging. In addition to their August body enhancing specials NuBody Concepts also offers a variety of other natural procedures that are proven to enhancing the face, buttocks, breasts, hands, stomach and legs.
"Women are raving about how they feel after experiencing our cosmetic procedures. Those who have had body enhancements are thrilled to be able to wear a bathing suit with confidence again. We also have many men who seek our help in improving their body. There is a large population of men who won't take off their shirt in public because they are embarrassed about how they look. With our procedures we are changing that for many men. Men who have had our AquaLipo Liposuction, WaveSculpt or NaturalFill procedures are now wearing their bathing suits without a shirt and feeling terrific," adds Emerson.
For more information on NuBody Concepts' August body enhancing specials please visit http://www.nubodyconcepts.com or call their Nashville office at 615-866-2240. August specials are valid when patients book their body enhancing procedure by August 31, 2013.